Kate Sullivan
Kate Sullivan is the lovely wife of NHL coach, Mike Sullivan. Her hubby currently serves as the head coach for the Pittsburgh Penguins since being named head coach on Dec. 12, 2015.
GOLF PARTNER
THE LARGEST GOLF CHAIN STORE IN THE WORLD
MAKING GOLF A SPORT FOR EVERYONE.

Her husband was born Michael Barry Sullivan on February 27, 1968. As a player he scored 61 goals and recorded 138 points in 141 career college games during four seasons of college hockey at Boston University.

He was later drafted by the New York Rangers as their fourth pick, 69th overall, in the 1987 NHL Entry Draft, though he never signed with them. He began his NHL career in August of 1991 when he signed a free agent contract with the San Jose Sharks after spending one season with the San Diego Gulls of the International Hockey League. Sullivan went on to play 11 seasons in the NHL and scored 54 goals with 136 points in 709 games during his playing career.

Sullivan spent two years as head coach of the Boston Bruins. In his first season in 2003-04, Sullivan led the team to the Northeast Division title. In 164 regular season games as a head coach he had a record of 70-56-15-23 with a 3-4 playoff record.

He also served as head coach for the U.S. Men's team at the 2007 World Championships in Russia. He also was an assistant coach for the U.S. Men's Olympic Team at the 2006 Olympic Games in Turin, Italy.

Sullivan was an assistant coach for the Vancouver Canucks for the 2013-14 season under coach John Tortorella. Prior to joining the Canucks, Sullivan was an assistant on Tortorella's staff with the New York Rangers and, before that, was again an assistant for Tortorella with the Tampa Bay Lightning.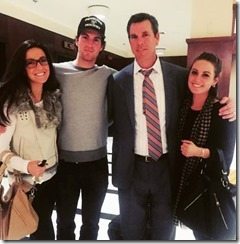 Pin
Kate Sullivan is by now a seasoned NHL wife. Like many women married to famous sports coaches, she has been the one in charge of the kids at home. Kate Sullivan and Mike are the parents of three grown children, daughters Kaitlin and Kiley, and son, Matt.
The mom of three is originally from Norwell, Massachusetts. She studied nursing at the University of Boston after graduating from the Notre Dame Academy and according to her Facebook account she works at the Beth Israel Deaconess Hospital in Plymouth.
Daughter Kiley attended Duxbury High School and Collingwood School and is a student at the Boston University. Kaitlin Sullivan also attended the Duxbury High School and lives in Chestnut Hill, Massachusetts. While Matt Sullivan attended the Boston college High and the Bowdoin College, he lives in Brunswick, Maine.