NBA female referee Lauren Holtkamp has been criticized by Clippers' star Chris Paul, who said after getting a technical foul that she might not be right for the job!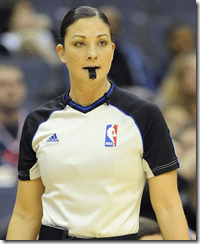 Lauren pulled Paul while attempting to inbound the ball quickly following a Cleveland free throw in his side's 105-94 loss to the Cavaliers on Thursday night, reports say. He then questioned her judgment and challenged her to explain her move, one of five given to Los Angeles during the game.
34-year-old Lauren Holtkamp worked a few games last season but is now a staff official for the NBA. Holtkamp, is a former college basketball player, she went on to study for her master's in marketing and communications at Drury University in Missouri.
While in University she'd ref 12- and 13-year-olds to make some extra cash but eleven years later and now 34, she's the third full-time female ref in NBA history.
While still in Missouri she had plans to attend Emory University to get her master's in divinity but she then moved to Atlanta and the rest was hard work and destiny when she got a phone call last summer from Mike Bantom, the league's executive vice-president of referee operations, offering her a job as a full-time NBA ref.