Malin Hornqvist
Have you met Malin Hornqvist? She is the lovely wife of Swedish NHL player, Patric Hornqvist. Her husband is a right wing player for the Pittsburgh Penguins.
Hornqvist is from Sollentuna, which is just outside of Stockholm. His father, who used to play the goalie position, was the biggest influence in his career. Patric's father introduced him to the game and has loved it ever since.
He has a younger sister named, Camilla, 20.
Hornqvist moved from Sweden to the U.S. in 2007 to start his NHL career with the Predators, and said the hardest part was the adjustment was off the ice. "In Europe, the team actually helped you to find an apartment and cars and all that. Here, at the rink, they treat you really well but outside the rink, you can do whatever you want and obviously that was tough in the start."
In 2014 Patric was traded to the Pittsburgh Penguins, and as the seasons started Hornqvist opened the year with points in 4 straight games (4G-4A) for the first time in his career. His 8 points rank third on the team behind Crosby and Evgeni Malkin. Hornqvist had multiple points in 3 of 6 games with the Penguins, that year he became the first Pittsburgh player to record 12 shots since James Neal on March 27, 2012.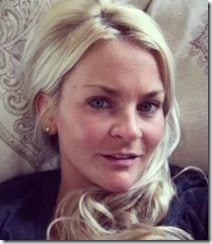 Malin Hornqvist is a former figure skater, she and her hubby met at the rink while skating in Sweden, where they both grew up. Malin Hornqvist is also the mother of the couple's only daughter named, Isabella and who was born in 2013. About his daughter, the proud daddy said: "Just a nice little girl. So far so good. It can change, but she's been really good to us and we both are really happy. She's healthy, so we can't ask for anything more."
He revealed the best part of being a dad is: "just all the energy she gives me. You wake up in the morning and you know she's always smiling. Even after a bad game, you come home and she's awake and smiling at you. You just let the game go.
According to her Facebook page, Malin Hornqvist studied at Rudbeck – Valfrihetens Gymnasium and also attended Luleå tekniska universitet.
Malin Hornqvist, her hubby, and daugther currently reside in Pittsburgh, Pennsylvania.
You can find Malin Hornqvist on Instagram here.