Meet Marcelle Silva
Marcelle Silva is the lovely wife of NBA player, Anderson Varejao. Her Brazilian husband was born September 28, 1982 in Brazil. He is a professional basketball player for the Golden State Warriors and Brazil.
He won the gold medal with Brazil at the 2003 Pan American Games. He's also competed in every world championship between 2002 and 2014.
Anderson "Andy" Varejão was selected by the Orlando Magic in the second round of the 2004 NBA draft, 30th overall. On July 23, 2004, the Magic traded Varejão, along with Drew Gooden and Steven Hunter, to the Cleveland Cavaliers.
In the 2007 offseason, he became a restricted free agent and later signed a two-year $11.1 million contract with Charlotte Bobcats. Varejão then became the Cavalier's starting center in the 2010 season.
He spent all 12 seasons of his NBA career with Cleveland. In early 2016, Anderson was dealt to Portland in a three-team trade. The Trail Blazers immediately cut the Brazilian, leaving him able to sign with any team; as a result he joined The Warriors in 2016.
In 2015, Varejao saw his playing time dwindle significantly as he all but dropped out of the rotation in Cleveland. He played just 31 games, averaging 2.6 points, 2.9 rebounds and 10 minutes.
For his career, Varejao has averaged 7.6 points and 7.5 rebounds. He has also played 71 playoff games but missed last year's postseason for Cleveland because of a torn left Achilles.
Varejao, also known as Wild Thing, had three consecutive seasons (2011,2012,2013) where he was cut short by injury – limiting him to 81 games over the past three campaigns. Before that, he'd never played less than 48, and appeared in 81 contests twice.
He revealed in 2014, Marcelle Silva, had a lot to do with his comeback. "But having my wife now and my family, they helped me a lot. She was healing me, she really helped me. She took care of me – mentally, telling me to stay positive."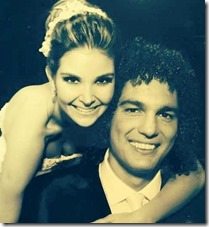 The professional basketball player, dated his wife for three years before he proposed. After the long courtship, Marcelle Silva and Varejao walked the isle on September 7th, 2013 at St. Francis of Paola Church in Rio de Janeiro. Marcelle Silva was 27, at the time of her wedding.
The couple pledged eternal love in front of a whooping 1,000 guests, most of which were family and closest friends.
Marcelle Bueri Silva who now goes as Marcelle Varejao, is originally from Rio de Janeiro. Her hubby said about their big day: "It was HUGE,"  "We got married in Rio. My family is huge. And her friends and family are all from Rio, so everybody went to the wedding. Probably 99 percent of the people we invited from Rio went to the wedding. And then our friends from all over the world that I invited all came. So it was around a thousand people. It was crazy."
You can find Marcelle Silva on Instagram here.