Meet Adora Nwakwesi
Adora Nwakwesi is the lovely girlfriend of NHL player Pernell Karl "P. K." Subban. Her boyfriend was born May 13, 1989 in Toronto, ON, CA.
The defenceman and an alternate captain for the Montreal Canadiens of the National Hockey League, was drafted by the Canadiens in the second round, 43rd overall, of the 2007 NHL Entry Draft. He is one of three brothers whom all been drafted and signed to NHL teams.
Since the 2007 NHL Entry Draft, P.K. Subban has been a proud member of the Montreal Canadiens organization. He also won a gold medal with Canada at the 2014 Winter Olympics in Sochi. The All-Star won the 2012-13 James Norris Memorial Trophy as the NHL's top defenseman and leads the Canadiens in points this season.
The son of Caribbean native parents who emigrated to Ontario. His father Karl, is a retired school principal.
The 26-year-old now has 46 points (five goals) in 59 games on the season and has registered at least one point in 15 of his last 18 games. With 23 power-play points, 69 PIM and 153 shots on goal.
Subban is arguably the team's best player on the ice, having tallied a career-high 60 points last season with 15 goals and 45 assists. He also posted a plus-21 rating, per ESPN.com, which was the best mark of his NHL career.
P.K Subban who's evolved into more than a hockey player, also labeling himself as an entrepreneur and philanthropist, has been dating pretty Adora Nwakwesi for over a year. Another report, says they have been involved since 2010.
According to her Facebook profile,Adora Nwakwesi lives in London, Ontario. She attended the renowned Western university.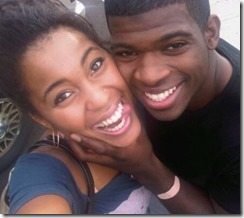 Accoridng to her LinkedIn, Adora Nwakwesi is a Rehabilitation Therapist at Agta Home Health Care.
She holds a Bachelor of Health Sciences and also has a Certificate in Project Management, from the University of Toronto. Adora Nwakwesi is a super accomplished gal. In 2008 she was awarded an Entrance Scholarship of Distrinction to attend Western University. In 2011 she won the Marcus Mosiah Garvey Scholarship given by The Jamaican Canadian Association.
She has expanded her resume by volunteering as a Healthy Living Youth Group Mentor at Big Brothers and Big Sisters from 2010-2011. She also volunteered as a Crisis Telephone Support Worker at The London and District Distress Center for six-months in 2012.
Adora Nwakwesi has worked in the past as a Program Coordinator and Master of Ceremonies at FundHaiyan; she also wrorked at Addiction Free Youth as a Fundraising Project Manager. She worked for 11 months at Sport Physiotherapy Canada (SPC) as a Member Services Coordinator & Administration
According to her summary Adora is an "ambitious individual who loves new opportunities and thrives on challenges. Others would describe my personality as proactive, extroverted, and ambitious."
She also runs her own blog called, thehealthmotive.com. In her blog Adora Nwakwesi describes herself as an "Aspiring Health Care Provider, Fitness & Health Fanatic, Travel Enthusiast, Entrepreneur, as well as a Proud Mommy of the Cutest Puppy in The Six!