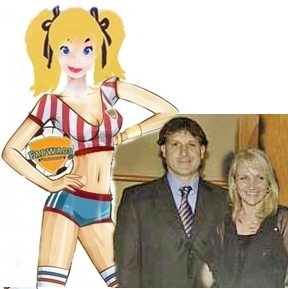 Days after the unfortunate exit of former manager Tito Vilanova, Barcelona have appointed Gerardo Martino as their new manager. The Argentine leaves Newell Old Boys to take over the La Liga champions on a 2-year contract.  and with Coach Martino's arrival comes a new soccer WAG and her name is Maria Angelica Martino.
"I feel identified with the style of football Barcelona play. I am an admirer of the work that Guardiola did. It's the style I like the most. The respect for the ball, they play the ball from the back,the possession, the triangulations. The pass is the main premise of football."
So being the man of the hour gives him plenty of attention, having said that we did our little research on him and this is what we know about the new manager of FC Barcelona.
The 50-year-old veteran was born in Rosario, Argentina; his nickname is "Tata" he played most of his football for Argentine side Newell Old Boys. In a fan poll back in 2003, Tata Martino was voted as Newell Old Boys greatest ever player. The midfielder made close to 500 appearances scoring 35 goals during his ten year spell with the club. He was appointed as a key player for the team during Marcelo Belisa's management.
Gerardo Martino's honours include 3 Argentine Primiera Division titles, 4 Paraguayan Primiera Divison titles and 1 South American Coach of the Year award which he won while in charge Paraguay.  Martino's links with Barcelona are long-drawn. The Argentine made his Tenerife debut at Nou Camp in a 1-0 defeat to Barcelona.
But it's been proved behind every success story there is someone really special in the mists; that would be Martino's softer side, his family. The former attacking midfielder Gerardo Daniel Martino is happily married to beautiful Angelica Maria Martino. The couple has three children, two daughters Maria Noel and Maria Celeste and a son Gerardo Andres who plays for the inferior league of Newell and has been nicknamed after his father as "Tatita"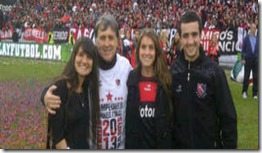 Family is really important for Martino he's been described by many publications as a man of respect and high values so wife and children always come first to him. His oldest daughter Maria Noel is a 24-year-old lawyer, Maria Celeste was born in 1991 and Gerardo actually didn't meet her daughter until four days later because she was born when he was playing for Tenerife; and last but certainly not least 17-year-old Gerardo Jr. is sure after his father's footsteps at being a pro soccer player.
Looks like now the "strategist" and family will have to pack their bags and make Europe their newest homeland! After all this will be Martino's first stint with a European club.
You can follow more updates on FC Barcelona's official twitter here.