Sabine Lanina may be the girlfriend of young NHL player Matiss Kivlenieks, the Latvian goalie playing for the Columbus Blue Jackets and the Latvian Men's National Ice Hockey Team, who died in Novi, Michigan on July 4, 2021, at the age of 24, after being involved in a tragic accident.
According to news Matiss Kivlenieks, was a 4th of July party in Michigan, when exploding fireworks he suffered a percussive injury, extremely damaging his heart and lungs. Initially, it was reported he suffered a head injury after he slipped while trying to get out of a hot tub. He was rushed to Ascension Providence Hospital where he was later pronounced dead.
"We are shocked and saddened by the loss of Matiss Kivlenieks, and we extend our deepest sympathies to his mother, Astrida, his family and friends during this devastating time," Blue Jackets president John Davidson said in a statement Monday morning.
"Kivi was an outstanding young man who greeted every day and everyone with a smile and the impact he had during his four years with our organization will not be forgotten."
Matiss Kivlenieks Family
6'2 Matiss Kivlenieks was born in Riga, Latvia on August 26, 1996, he is the son of Astrida Kivlenieks, there is no mention of his father or any siblings whatsoever.
Matiss Kivlenieks Career Timeline
Matiss started playing hockey at an early age, he was around 15 when he started playing professionally.
Played with Prizma Rifa during the 2011-2012 season.
Joined Prizma U18 team that same season after playing just one game with his previous team.
Matiss played during the 2013-2014 season with Edina Lakers of the Minnesota Junior Hockey League (MNJHL), started in 39 games.
Joined the Latvia National Ice Hockey Team that played at the IIHF World U18 Championship in Canada.
In 2015, was named best goaltender at consecutive IIHF Division I Group A World Junior Championships after helping Latvia win the bronze.
Played 33 games with the Forest Lake Lakers during the 2014-20215 season.
Joined the Coulee Region Chill of the North American Hockey League, but played just one game during the 2014-15 season, and in 29 games the following season.
 During the 2016-2017 season Matiss played with the Sioux City Musketeers of the United States Hockey League.
Named Goaltender of the Year during the 2016-2017 season.
Signed with the Columbus Blue Jackets in May 2017.
He was assigned to the Blue Jackets' affiliate team the Cleveland Monsters during the 2017-2018 season, played in 43 games, finished with a .891 save percentage.
Returned to the Cleveland Monsters the next season, played in 14 games, finished with a .873 save percentage.
Kivlenieks played with the Vancouver Canucks' affiliate team the Kalamazoo Wings in the 2018-19 season (played in 8 games and a.923 save percentage).
Returned to the Monsters during the 2019-20 season, saw action in 20 games, finishing with a .904 save percentage.
Made his debut with the Columbus Blue Jackets on January 19, 2020, against the New York Rangers.
Played in 6 games with the Columbus Blue Jackets, recorded a .898 save percentage.
Appeared in 8 games with the Cleveland Monsters, recorded a.929 save percentage during the 2020-2021 season.
Returned to play with the Columbus Blue Jackets during the 2020-21 season, played in 2 games and a .901 save percentage
Finished his NHL career recording 3.09 GAA; .899 save percentage in 8 games.
Matiss Kivlenieks Net Worth
Matiss Kivlenieks had a net worth estimated at $1,450,000. His earning came merely from his contract with the Columbus Blue Jackets which he initially signed in 2017.  On the day of his NHL debut with the Blue Jackets against the New York Rangers, he stopped 31 of 32 shots, finished with a .969 save percentage; the Blue Jackets defeated the Rangers 2-1.
Matiss Kivlenieks Contract & Salary
He went undrafted during the 2017 NHL draft, but he still called the attention of the Columbus Blue Jackets and signed a three-year Entry Level contract worth $2,497,500 on May 25, 2017. The signing was announced by the Blue Jackets' General Manager Jarmo Kekalainen.
Matiss Kivlenieks Jersey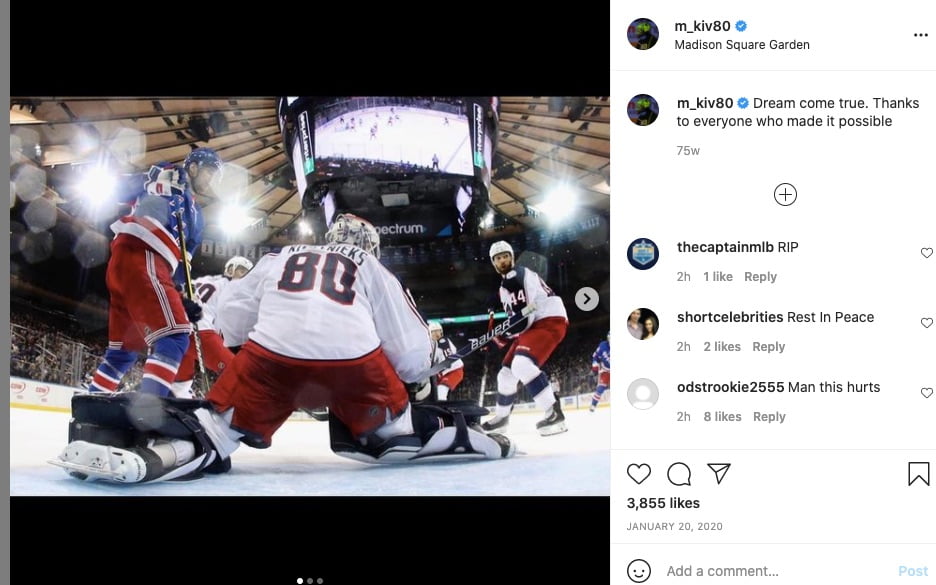 Columbus Blue Jackets fans can head to the Blue Jackets official store to purchase an official Matiss Kivlenieks' #89 jersey.
Matiss Kivlenieks Girlfriend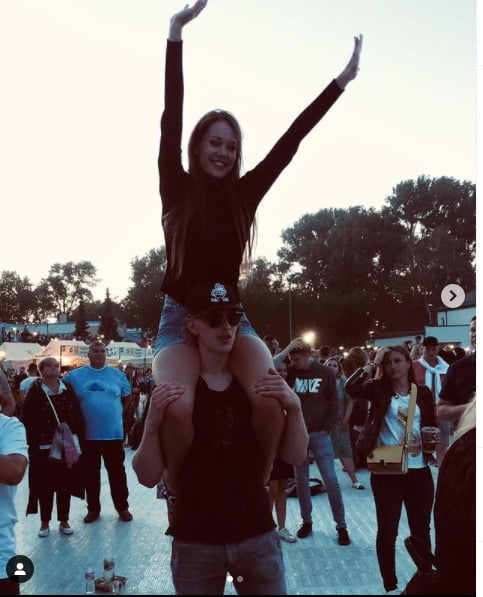 The only photo Matiss Kivlenieks had on social media with a girl is that with Sabine Linina; we can't confirm they were actually dating or dated, but this lovely gal also from Riga, Latvia studied at RCHV and is a model represented by Vacatio Model Management.