Anastasia Pichugina
Meet gorgeous Anastasia Pichugina aka Anastasia Kucherova; she is the hot wife of Russian NHL player Nikita Kucherov! Her 5'11" stud is currently a right-winger for the Tampa Bay Lightning.
The young player from Maykop was Tampa Bays' second-round pick (58th overall) in the 2011 NHL draft; prior to that, Nikita played for CSKA Moscow.
Nikita Kucherov Parents & Brother
Nikita Kucherov was born on June 17, 1993, in Maykop, Russia; he is the son of Svetlana Kucherova once a promising gymnast and Igor Kucherov, a colonel in the Russian Army, stationed in Ashgabat, Turkmenistan; he later moved to Frunze Academy in Moscow when Nikita was an infant.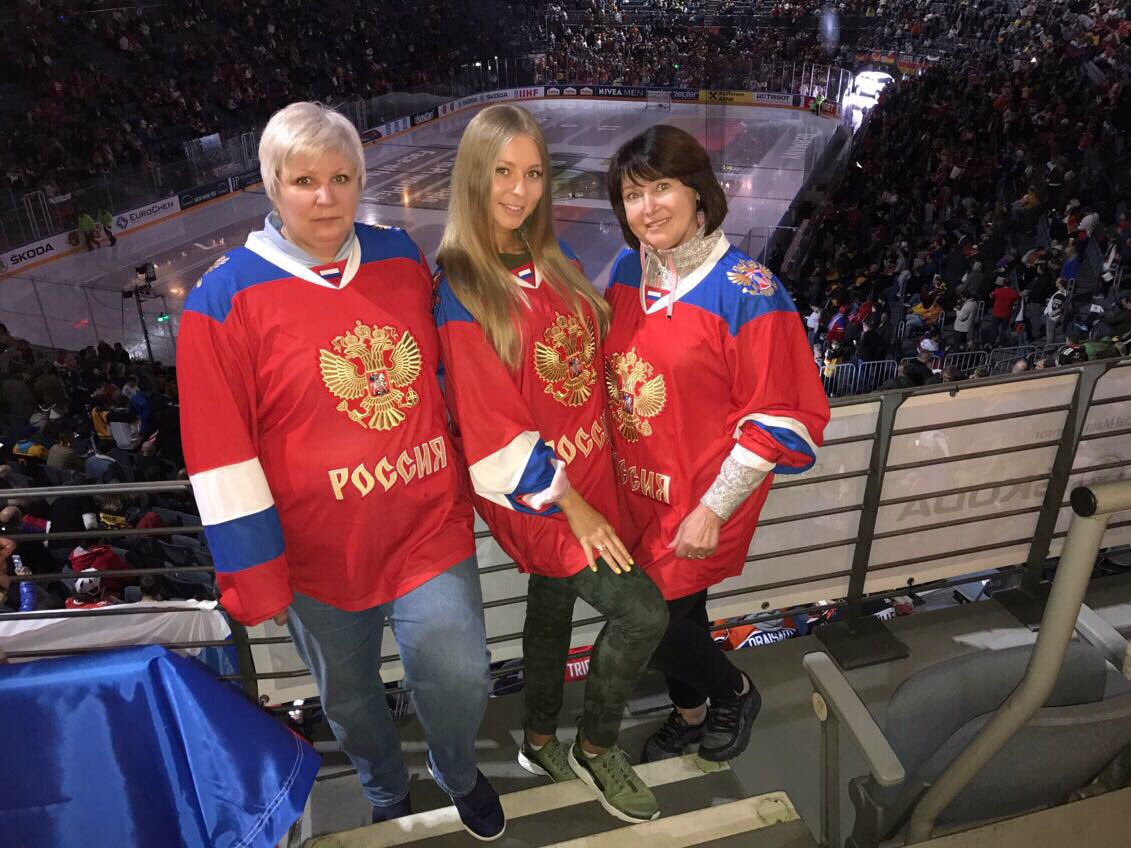 Pin
"Nikita was so agile when he was young," Svetlana recalls. "He was really always playing with something. I kind of knew that he would get where he is now. When he was one, we had a kick scooter. It was used by [his brother] Denis, who's three years older. He waited until he was two. You can't imagine how that kick scooter was, what kind of noise it made when it was moving. But then he started playing with it, and I didn't stop him. He already had great coordination."
Nikita has one older brother, Denis who played hockey when they were kids, but stopped when he decided to took other sports, nowadays, Denis Kucherov is a sales director for an e-commerce business.
Nikita Kucherov Career Timeline
Nikita Kucherov started playing with Krasnaya Armiya of the Moscow Hockey League in 2009; he recorded 56 goals, 56 assists in 100 games.
In 2010 joined the Kontinental Hockey League team, CSKA Moscow played only 9 games and recorded two assists.
Returned to Krasnaya Armiya during the 2011-2012 season (23 games, 24 goals, 19 assists).
Had a second sting with CSKA Moscow for the 2011-2012 season, recorded  1 goal, 4 assists in 18 games.
Joined the Quebec Remparts of the Quebec Major Junior Hockey League, recorded  3 goals, 7 assists in six games.
That same season, played for the QMJHL team Rouyn-Noranda Huskies (27 games, 26 goals, 27 assists).
The Tampa Bay Lightning selected him in the second round (58th overall) during the 2011 NHL draft.
He was assigned to play for the AHL team, The  Syracuse Crunch, recorded 13 goals, 11 assists in 17 games).
Joined the Tampa Bay Lightning during the 2013-2014 season, recorded 9 goals, 9 assists in 52 games.
He joined represented Russia during the 2016 World Cup of Hockey in Toronto. Russia finished fourth place.
Included in the roster of the Russian National Team at the 2017 World Championships taking the Bronze home.
Nikita helped the Russian team win another bronze medal at the 2019 World Championships in Slovakia.
Nikita Kucherov Net Worth
Nikita Kucherov has a net worth estimated at $20 million as of July 2021. He has earned his money from his NHL contract with the Tampa Bay Lightning and his multi-year endorsement with Adidas.
"I grew up with the Adidas brand both in sport and lifestyle," said Kucherov. "Adidas is known for making the best products for the best athletes in the world. It's a great honor to be the newest member of the creator sports brand."
Nikita Kucherov Endorsement
Pin
As previously noted, Nikita Kucherov joined the Adidas family in March 2019. According to Adidas, Nikita agreed to a multiyear partnership appearing in an array of Adidas marketing campaigns.
"Nikita is an elite athlete and a true creator on and off the ice," said Dan Near, Sr. Director of Adidas Hockey. "Our mission is to be the best sports company in the world and aligning with the best Russian hockey player of his generation further highlights Adidas Hockey as the premier brand in the sport and continues to build on our global brand momentum.  Nikita is a great ambassador for the sport and for Adidas and we couldn't be more excited to welcome him to the Adidas family."
Nikita Kucherov Contract & Salary Cap
According to CapFriendly, Nikita Kucherov has an annual salary of $9,500,000; his nNHL earnings are around $45,896,920.
On September 10, 2012, Nikita Kucherov signed a three-year entry-level contract with the Bolts.
Agreed to a three-year, $14.3 million contract with Tampa on October 11, 2016
Nikita signed an eight-year, $76 million contract extension with the Tampa Bay Lightning on July 10, 2018.
Nikita Kucherov Jersey
Tampa Bay Lightning fans can purchase their Nikita Kucherov's #86 jersey at the Lighting Store; the NHL official Store also has it available, and you can also, check out 's Sporting Goods and the Fanatics website.
Nikita Kucherov Wife
Nikita Kucherov's wife is Anastasiia Kucherov also spelled Anastasiia Kucherova and Anastasiya Kucherova, his longtime girlfriend and the beautiful mother of his adorable son.
Anastasiia Kucherova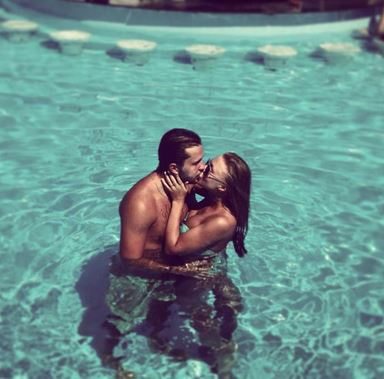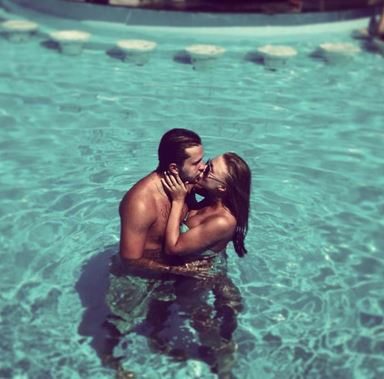 Pin
24-year-old Anastasiia Kucherova born Anastasia Pichugina and raised in Moscow, Russia; we don't know much about their relationship, except that after dating for a couple of years, Nikita and Anastasia tied the knot in June 2015.
Judging by her looks, we could easily say she is or has done modeling, and if not she really should, don't you think!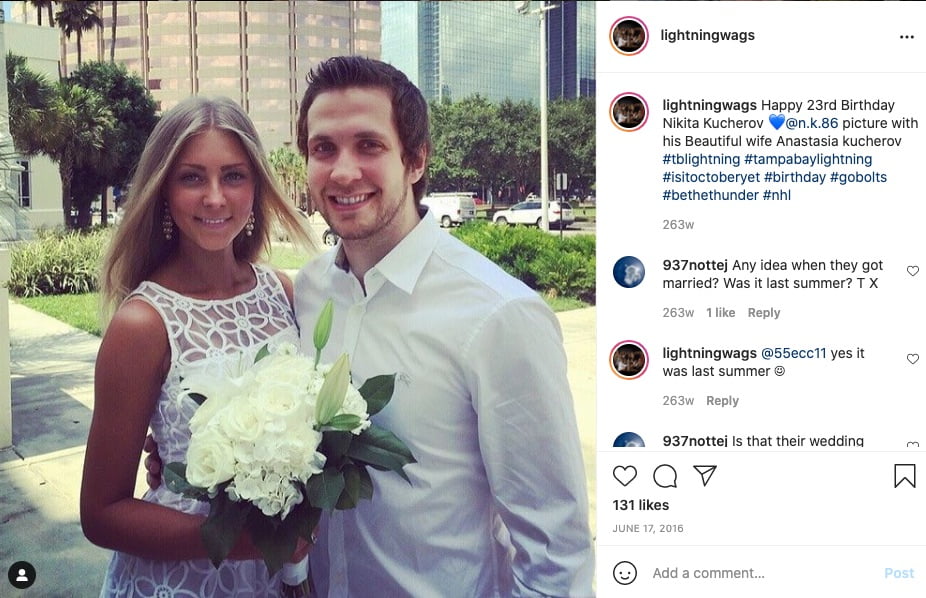 Pin
So after dating for a couple of years, Nikita and Anastasia tied the knot in June 2015. They welcomed their beautiful son Max born in September 2018.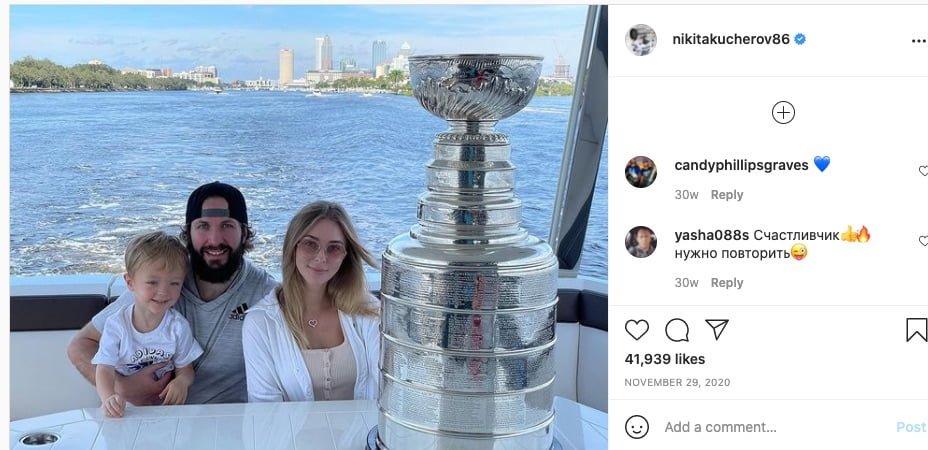 Pin