Shantrell Hilton
Shantrell Hilton aka Mrs. Ghost is the loving, caring and gorgeous wife of the amazing NFL player T.Y Hilton aka The Ghost; he is a wide receiver for the Indianapolis Colts. Prior to the NFL, T.Y played college football with the FIU Panthers at Florida International University.
The couple tied the knot in 2013, and even when there's not much info on his wife. So far we know that Shantrell met T.Y at Gwen Cherry in Miami, and we heard that she too attended at Miami Springs.
Shantrell and The Ghost Hilton have two handsome and amazing sons, Eugene Marquis Jr. and T.Y. Maurice.
On Sunday, November 23,  2014, T.Y Hilton's wife Shantrell Hilton gave birth to the couple's baby girl Eugenia Hilton known as Gigi! Hilton who was playing later in the day against Jacksonville Jaguars honored his little baby by cradling the football after scoring a touchdown.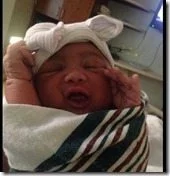 When Shantrell went into labor her man was asleep at the team hotel, after not being able to reach him, Shantrell sent one of his friends to bang on the door and wake him up. Hilton rushed to the hospital and arrived in time to see the birth of his new daughter! According to Hilton's agent, the new dad was just glowing coming into the game!
Congrats to the couple on the birth of their first baby! Don't miss the video below!