Melissa Hernandez
Meet Melissa Hernandez, she is the girlfriend and soon-to-be wife of NFL player Bradley Marquez. Marquez who is a wide receiver for the Los Angeles Rams previously played college football at Texas Tech.
Bradley, Melissa and more Rams players with their significant others will be on E!'s new show Hollywood & Football where they will showed us how they settled to their new life in Sunny California.
So are you ready to meet the Ramily?
Just before we get to pretty Melissa, check these interesting facts her man.
#1 Bradley Jerrill Marquez was born on December 14, 1992) to Veronica Marquez and Brad Givens.
#2 Attended at Odessa High School in Odessa, Texas where he also excelled in baseball
#3 Graduated with an exercise and sports science major at Texas Tech in 2013.
#4 The NY Mets selected him in the 2011 MLB Draft, he turned down baseball for football in 2013.
#5 Signed with the then St. Louis Rams as an undrafted free agent in 2015.
Not much out there about Melissa, but check out what we know.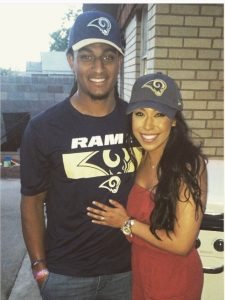 * Melissa Hernandez like her stud was born in Texas.
* She too attended at Texas Tech.
* She met Bradley in college.
* Melissa and Bradley are currently engaged. He popped the question about nine months ago.
* She gave birth to their first child, son Kash Bradley Marquez on November 10, 2016.
* Find Melissa on Instagram here