Michelle Rhee
Michelle Rhee is the wife of former NBA star turned Sacramento Mayor, Kevin Johnson. Her 50-year-old hubby, was assaulted right in front of about 200 people at a charity event on Wednesday.
Reports say Johnson allegedly got into a fight with a protester after getting a pie thrown in his face! According to one witness, Johnson beat the man to a " pulp."
You might remember Michelle's hubby from his time with the Phoenix Suns. Johnson who was born March 4, 1966 in Sacramento, California –was drafted with the seventh pick in the 1987 NBA draft by the Cavaliers.
During his 12-year playing career, Johnson was a three times NBA All-Star and four-time second team All-NBA selection, along with holding numerous records for the Phoenix Suns organization.
He became the mayor of Sacramento in 2008 and was reelected in 2012. The former point guard has a B.A. in Political Science from U.C. Berkeley.
Johnson is married to an equally bright woman, Michelle Rhee.
Born to South Korean parents, Karen has worked tirelessly to 'build educational environments that truly foster learning.'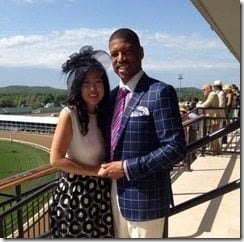 Michelle Rhee was born December 25, 1969. She was born in Michigan but was raised in Toledo, Ohio.
She graduated from the private Maumee Valley Country Day School in 1988. She holds a B.A. in government from Cornell University. She later earned a Master of Public Policy from Harvard University's John F. Kennedy School of Government.
Rhee signed up with Teach For America, went through their five-week summer training program. She then worked for three years as a teacher in Baltimore, Maryland at Harlem Park Elementary School.
Inspired by that Baltimore classroom she became the founder of The New Teacher Project in 1997.
In 2007 she went on to become Chancellor of D.C. public schools. Rhee contended that under her chancellorship, student achievement in the D.C. Public Schools greatly improved. She resigned in 2010.
In late 2010, she founded StudentsFirst, a non-profit organization that works on education reform.
As for her personal life, Michelle has been married two times. She is the mother of two children with first husband, Kevin Huffman.
She and Kevin Johnson tied the knot in 2011.
Want to know a lot more about her? Read Michelle's top facts here.
Find her on Twitter here.