Daniela Sano
This pretty gal is Daniela Sano, she is the pretty wife of MLB player Miguel Sano, He is the Dominican third baseman for the Minnesota Twins, where he also is a designated hitter.
Sano was born on May 11, 1993, in San Pedro Macoris, Dominican Republic. He started playing baseball in his country, but soon MLB team noticed him.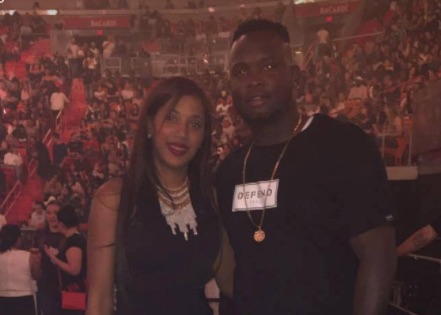 The Pirates were the first to notice him and didn't waste time offering him a deal; however, around the same time, the Minnesota Twins approached him with a deal as well. Eventually, Miguel decided to sign with the Twins. In September 2009, Sano signed a $3.15 million signing bonus deal with Minnesota, although he didn't his new team right away; instead, he joined the Twins' rookie league the Elizabeth Twins.
Angelica
Sano finally made his MLB debut with the Twins in June 2015. Sano went through a rough patch in November 2014. He first experimented the joy of becoming a father for the first time on November 28, 2014, when his daughter Angelica was born.
But her little princess was born with a congenital heart defect and died a week later. Sano, 20 at the time said he even considered taking his life after Angelica's death.
"I was lost in this world, and there was also the thought of hurting myself. He sat next to me and said; calm down, she is gone, but someone else will come".
And somebody else did come; Daniela who never got to hold her little Angelica in her arms, hope to become a mother again.
"She told me last night she wants another baby," Sano said with a smile. "I'll try to make another. I take care of my wife. I tell her it's going to be OK. We're going to try to have another baby."
Daniela Sano formerly known as Daniela Rodriguez dated Sano for six years before they tied the knot in the spring of 2015. Like her husband, Mrs. Sano was born like her husband in San Pedro de Macorís, Dominican Republic. She studied at the University of Central del Este and currently lives in Minneapolis, Minnesota.
Dylan Miguel
It is uncertain if Daniela and Miguel are still together, but we found odd they are if he fathered a child with another woman.
Darilenys Rodriguez, born on July 1, 1996; gave birth to Sano's son Dylan Miguel in November 2016. Darilenys has one daughter, Isabella from a previous relationship.
El primer mes de mi muñeco hermoso ❤️ Te amo Baby Dylan Miguel ❤️ Mis hijos son mis todo ( Isabella & Dylan )
More photos below.