Molly Brown
Molly Brown is the ex-wife and also domestic violence victim of NFL player, Josh Brown! Her 37-year-old husband has been suspended after being arrested on domestic violence charges.
According to several reports, the NFL suspended the New York Giants kicker for the first game of the regular season after a violation of the personal conduct policy.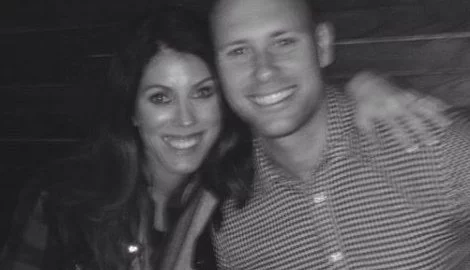 It is believed Josh and Molly Brown –his wife of eight years –had a little discussion last year, and which ended in this whole mess he is in right now.
Back in May 2015, Brown was arrested on a fourth-degree domestic violence charge, a misdemeanor.
Records show that Brown was arrested at the address of the home he shares with his wife; according to police, Brown and the victim quarreled, and Brown grabbed the victim's wrist while picking up a phone.
Molly then called 911 and alleged assault. When police arrived they found she had a red wrist and a 'small cut, possibly from fingernail."
Her hubby appealed the case but in a recent statement he said, though he doesn't agree with the suspension he will accept it.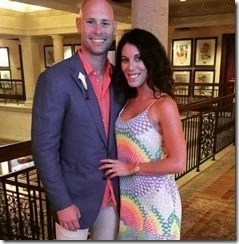 Molly's husband is a 14-year veteran. Josh signed a two-year, $4 million contract with the Giants in April. The Tulsa, Oklahoma native was the star place kicker of the University of Nebraska's special teams. He was drafted by the Seattle Seahawks in the seventh round of the 2003 NFL Draft.
Domestic Abuse
Problems are not new for the couple. Back in 2014, it was reported she and her husband had considered getting a divorce. At the time Josh revealed in an interview:
"My wife didn't feel like she was important to me and I allowed the environment to change me."
The environment that Brown referred to, is all too common within the world of NFL and being a professional athlete. An immature NFL player opens himself up to all kinds of problems, according to Brown.
He gave credit to Molly Brown saying
Thank god for my wife. She said, 'No more!' She stood up for herself and it saved my life."
Before she became Molly was born Molly Teresa Dedo on 05/20/80 to Daniel Walker Dedo and Joni Elizabeth Phillips.
According to social media info, Molly Brown is a freelance fashion stylist and consultant. The Seattle, Washington native used to work for Catalyst and MB Project Inc.) in 2008, Molly was previously married, from her previous relationship she is the mother of her sons Kobe age 16 and Kemper age 13. Together, Molly and Josh are the parents of a 7-year-old daughter, Georgia.
Josh eventually admitted abusing his now ex-wife Molly.
"I have been a liar for most of my life. Made selfish decisions to use and abuse women starting at the age of 7 … I objectified women and never really worried about the pain and hurt I caused them," he wrote.

"My ability to connect emotionally to other people was zero. My empathy levels were zero. Because I never handled these underlying issues I became an abuser and hurt [my wife] physically, emotionally and verbally. Viewed myself as God basically and she was my slave."

"I am to blame for all of this."

I have physically, verbally and emotionally abused my wife Molly," "I have controlled her by making her feel less human than me, and manipulated her with money" and "I have disregarded my step sons' feelings and they have witnessed me abusing their mother."

"I'm sure there were several moments of panic for the boys and wondering if they were in a safe place with me. I am sure you were afraid to tell me how you truly felt because you feared my reaction. … I have struck fear in your heart and not love, compassion or friendship. From the bruise on your leg when we argued … to the zipper that caught you last April. I am ashamed and disgraced to call myself a husband."