MLB outfielder Ezequiel Carrera of the Toronto Blue Jays played in game four of the ALCS. Would he be up against the Cleveland Indians today in game five of the MLB League Championship Series?
Ezequiel Manuel Carrera Reyes best known as Ezequiel Carrera hails all the way from Venezuela. The 29-year-old saw his time cut in the second half of 2016, however Carrera is back in the thick of things during the most important time of the season.
Through four playoff games, the Venezuelan is 6-for-16 (.444) with two walks, two RBI, four runs and a stolen base. He's started every game so far during the postseason and has hit leadoff in the last two contests while Devon Travis has sat out due to injury.
Earlier this month, Carrera had his first-ever hit of the post-season. He said of the biggest RBI of his career "This is the moment I waited for," "Unbelievable."
Like that, Carrera, who began this season as the Blue Jays' fourth outfielder, was one of just two players to register more than one hit in Toronto's first post-season game of 2016.
The Spanish speaking player leads a low key profile but teammates like Kevin Pillar have hailed his work saying "This guy shows up to work every day, doesn't know when he's going to be in the lineup. He's been huge for us,"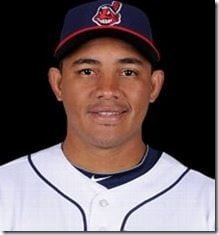 Ezequiel Carrera has definitely had one of a year. He literally went from not playing every day to playing every day to not playing every day to playing every day again. But after the wild-card game, things got serious and he's been playing consistently ever since.
Carrera signed with the Jays on a minor league deal with an invite to Major League Spring Training in 2014. He has previously played in MLB for the Cleveland Indians, Philadelphia Phillies, and Detroit Tigers.
As for his personal life, Carrera is not doing bad either. According to Spanish blogs the first person he called back in 2011 to share the news he was moving up to the big leagues was his wife.
Thought it's been a while and we can't assure he is still married, we assume he is in a relationship with someone at least.
Thoughts on Carrera? Any idea who his wife or girlfriend might be?