Tianna Hicks
This lovely and beautiful lady is Tianna Hicks; she is the amazing mother of college football player Najee Harris, the outstanding running back for the Alabama Crimson Tide at the University of Alabama.
Tianna Hicks' son famous for his hurdles will be heading to the NFL pretty soon, before all of that we think you should know about Najee Harris' mom, his father, his girlfriend, and his career.
Najee Harris High School
6'2 Najee Jerome Harris was born on March 9, 1998, in Martinez, California. He attended Antioch High School in California.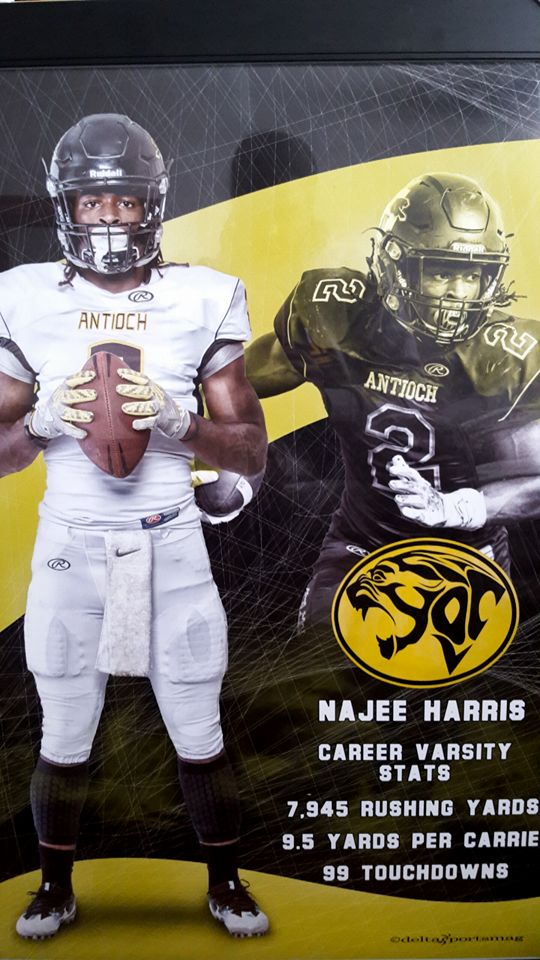 In his sophomore year Najee recorded 23 touchdowns and rushed for2,263 yards; the following year, he rushed for 2,744 rushing yards and 36 touchdowns. He rushed for 3,776 yards and 34 touchdowns during his senior year.
Najee Harris Alabama
In addition to Alabama, Najee received offers from the Michigan Wolverines, Ohio State Buckeyes, Notre Dame Fighting Irish, and the Trojans at the University of Southern California. In his first year with the Crimson Tide, Harris played in 14 games, had 730 rushing yards and three touchdowns.
Harris had 117 carries for 783 rushing yards, four touchdowns in 15 games during his sophomore year. Najee played for 13 games, had 209 carries for 1224 rushing yards and 13 touchdowns his junior year. In his final year at Alabama, Najeeplayed for 12 games, had 229 carries for 1387 rushing yards and24 touchdowns.
Najee Harris Transfer
Back in June 2018, Najee Harris said he considering transferring from Alabama, that all happened around the same time news about Tua Tagovailoa said he too thought about transferring from Alabama.
The only thing I can tell you is, I hope I'm on the field more," Harris said. "Last year was the worst feeling. That whole season was mentally challenging.
MarcusMalu, his trainer, previously said Najee was frustrated a couple of months earlier, although Malu didn't mention anything about Najee's transfer plans.
He took it hard because he felt like they could have given him more reps but he understood it's part of the process, Malu told AL.com. "You have to go through the process and you're not going to a small university that doesn't have great backs. You're going to the best of the best.
He was like 'I just thought they were going to give me a shot,'" Malu said. "I said they're always going to give you a shot but you have to understand it's part of the business. It's a business now. I'm pretty sure you wouldn't like it if Saban brought in another five-star without having to prove himself.
Najee Harris Hurdle
Is Najee Harris dating Megan Rapinoe? No, he is not, but the U.S. soccer star was who asked Najee to hurdle over a rival at the Rose Bowl.
THIS NAJEE HARRIS HURDLE 😱 #SCtop10 pic.twitter.com/3qiYJq9wPi

— SportsCenter (@SportsCenter) January 1, 2021
He had previously expressed his admiration for Rapinoe not only in the field but also outside.
 What she does outside of sports. She stands up for all that," Harris said. "I like how she does that. Obviously the social injustice that happens, she plays a part in all that.

And for her to be a woman and saying all that stuff, and it could be scary for her, for being a woman in what they will say is a man's world, and her just playing a part, standing up, not listening to all the naysayers out there and really just standing up for what she believes in, it's motivating. And it's inspirational.

Me as a male, I guess you could say, like, maybe not too many males will say they look up to a woman nowadays. But I really look up to her, just for what she does outside of sports. And I guess I had to give her a shoutout and stuff.
Megan found out what he said, and she quickly responded!
Najeeeee🥰🙏🥰🙏🥰 Roll Tide!!!!! ( did I do it right? 🤪) Be Great, get those 🌹's and hurdle someone for me! @ohthatsNajee22 👩🏻‍🎤x 2️⃣2️⃣ https://t.co/4YcDPCGShD

— Megan Rapinoe (@mPinoe) December 30, 2020
Back in November 2017, Najee also hurdled over Mercer defensive back Eric Jackson.
Najee Harris Rivals
Compared to NFL running back Adrian Peterson by many recruits, Najee Harris was considered the #1 overall recruit in the 2017 class by Rivals as well as Scout; ESPN ranked him in third place and 247Sports placed him 2nd.
He received offers from many top programs, which was a bit confusing for his mom Tianna hicks, who was eager to move to wherever Najee decided to play.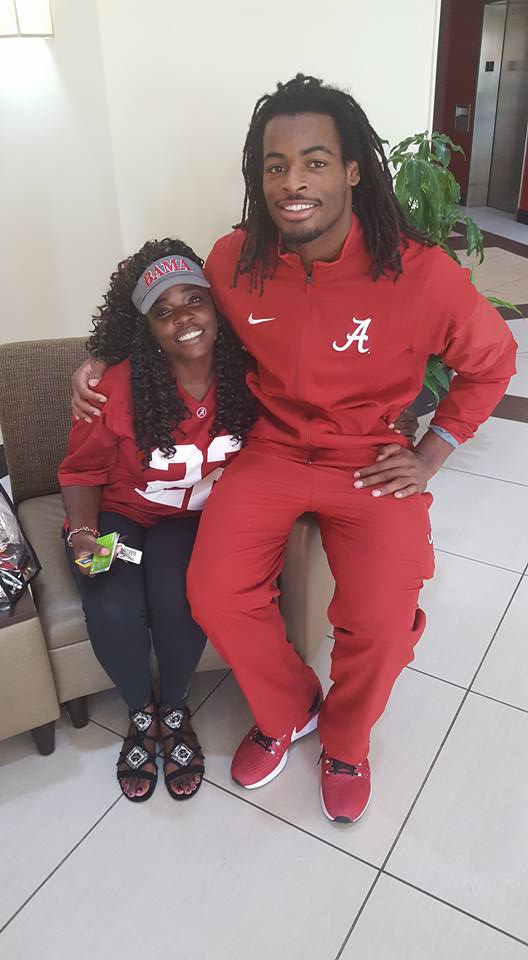 "He messed with my head the whole time," Hicks said with a laugh. "I thought at first we were coming to Alabama, so I started to look for jobs in Alabama. Then he started leaning toward Michigan, so I had to start working on getting some connections there. I had dropped all my Alabama connections and started working on Michigan. The last day of the Army All-American Bowl when he decided on Alabama, that's when I had to turn back around and re-establish the connections that I had.

"I did not know up until the day he said he was leaving. He had my head spinning. Later on, he said, 'I never told anybody I was going to change my commitment,' but boy he had me on a good one."
Najee Harris 40 Time
Najee Harris aka Baby Huey, the nickname the talented running back has received s clocked a 4.45 in the 40-yard dash and 3.7 seconds in the 20-yard shuttle. His senior year at Alabama, Najee's performance became more aggressive, in a good way, which is the reason why coach Saban and Steve Sarkisian, his offensive coordinator put all of their trust in him.
Najee Harris Father Curtis Harris
Tianna Hicks and Curtis Ray Harris had five children, Najee is their youngest; she had her kids when she was very young, didn't graduate from high school, and victim of violence.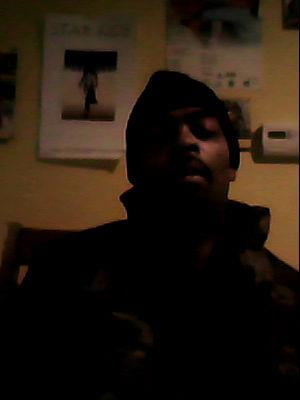 Curtis struggled with alcohol and drugs, he was never able to have a steady job, and was physically and verbally abusive towards his children as well as Tianna.
"Najee didn't see me with bruises as much as my older children had, but it was still a lot. They witnessed a lot of stuff."
Curth Harris lives in Seattle, he and Najee haven't spoken for a while, he admits he wasn't the best father or husband to Tianna.
"I regret that today, I came from banging, straight up," Curt said. "My mentality was a fire lighter – one minute I could be this, one minute I could be that. I was very aggressive until I was like 21, 22, 23. … I didn't care back then. It takes a while to care."It was truly a freaking nightmare, and I wish it didn't happen."
He also said he talks to his other children now, but not to Najee, something he would love to change someday.
"We had a lot of fun, too," Curt said. "We did a lot, it wasn't just anarchy. I regret all of it. I haven't had a chance to talk to him yet. … I'd tell him, the reason I haven't been talking to you is I haven't been talking to nobody, my mom or anybody else. When I go into my shell to get myself together, I tend to cut everybody off.
In addition to his five children with Tianna Hicks, Curtis Harris a former football at Grambling State University had four more children.
Najee Harris Mom Tianna hicks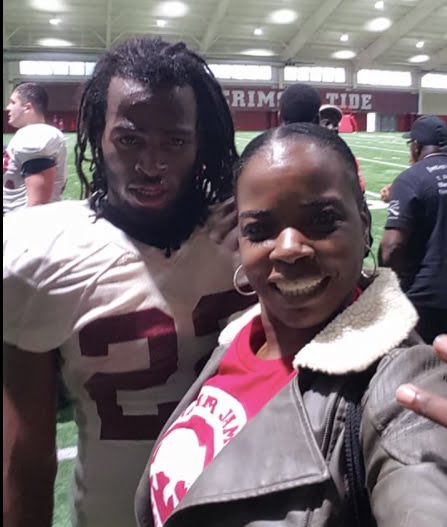 As noted Tianna Hicks started having kids at a very young age, she wasn't able to get her high school diploma, but she eventually did. Not only she got her diploma, but she was also able to get her GED and a medical assistant degree. Tianna attended Phillip and Sala Burton Academy.
But prior to all of that, Tianna and her five kids went thru very hard times; they lived in way too many places.
"The food was downstairs," Najee said. "There's like ants crawling over the food and hella homeless people. … We stayed there for almost like a year, probably. But I stayed in hella shelters before. When that didn't work we stayed at a family member's house. We stayed in the car.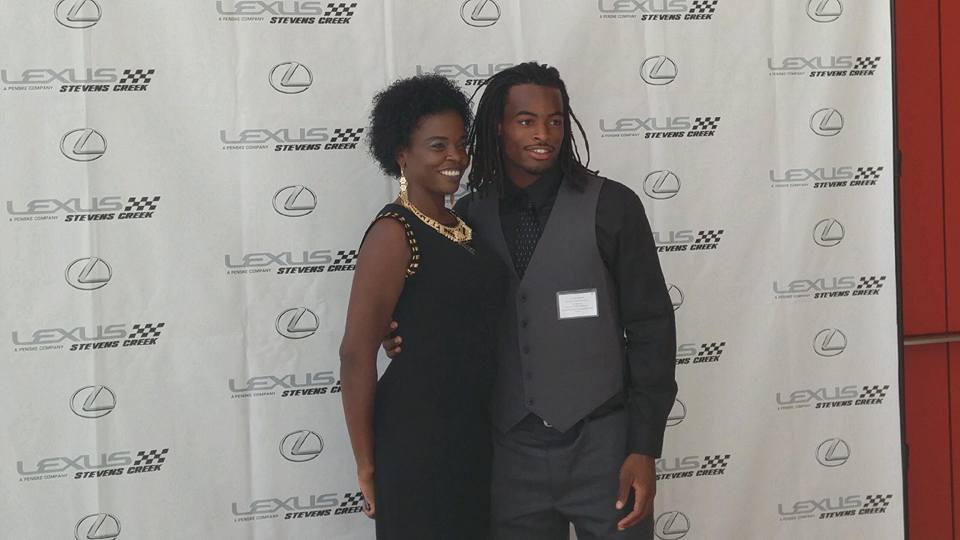 Tianna didn't like when they had to sleep in a van, on those nights she would send her kids to stay at friends' houses, although Najee knew sleeping in a house was much better than sleeping in a van, he opted for the van so he could stay with Tianna.
"If my mom is sleeping in the car, I'm sleeping in the car with her," Najee said.

"Staying in a house is the best thing," Najee said. "I stayed in a house before and slept on a hardwood floor and it was perfect.

"At least you're in a house."

"Richmond, Antioch, Pennock, Hercules … It was just everywhere in the Bay Area. I stayed in Oakland for a little bit at a friend's house, I stayed in Pittsburg. I stayed in hella places. Let's see … a lot.

"You'd have to ask my mom."
When Najee committed to Alabama, Tianna planned to move there as well; however, she knows Najee is ready to leave the nest.
"Mom, this is what you trained me for all my life," Najee told Tianna before leaving. "To beindependent and handle my own business and that's what I'm ready to do."
Tianna moved to Birmingham, Alabama in February 2017, along with one of her sons and daughter Jahmila Harr
In Birmingham, Mrs. Hicks found a job at a plastic surgeon's clinic. She also worked at Kaiser Permanente Creek Medical Center. She doesn't see Najee as much as you think, but she makes sure they see each other each Sunday for church, lunch and then she drops him off in the afternoon.
Najee Harris Siblings
Najee has one older sister Jahmila Harris (b. May 7, 1994) a medical assistant at UCSF Medical Center and Pinole Valley High graduate. Jahmila is dating Aundrelle Anthony.
And then are his three older brothers, starting with Malachi.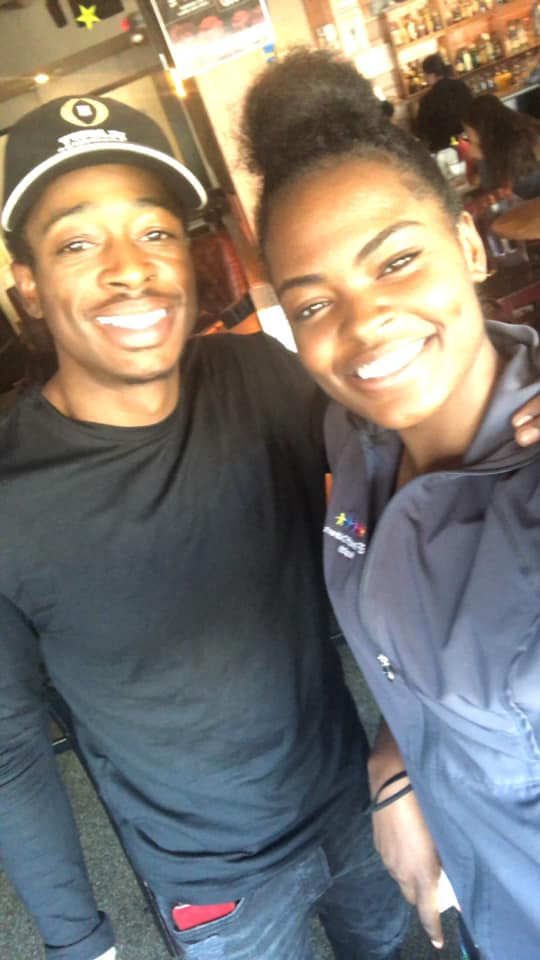 Tianna's son Malachi graduated from Pinole Valley High; he is studying nursing and Allied Health at Diablo Valley College.
Her other son Curtis Harris Jr. "Premo" also Pinole Valley High graduate and later went to UCLA. according to his social media, he is a shooting guard for Nike Basketball.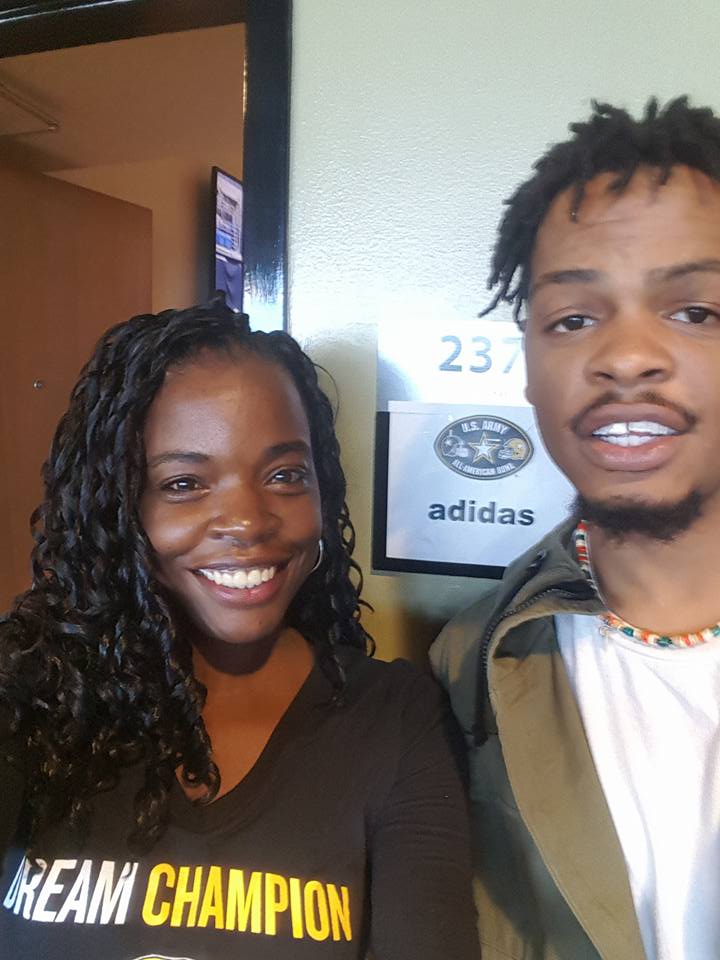 Last but not least is Fela, born in San Francisco; he graduated from Antioch High School and attended UCLA. He works or used to work at a Foot Locker in Richmond, California. He and his girlfriend have a beautiful son together.
Najee Harris Girlfriend
It is uncertain if Najee Harris has a girlfriend. I mean this guy is very private, he could easily be dating some drop-dead gorgeous girl and we wouldn't know; like this beautiful blonde in the photo below with Najee and mom Tianna probably taken during those Sundays when Mrs. Hicks picked Najee for church and lunch. But we could be wrong.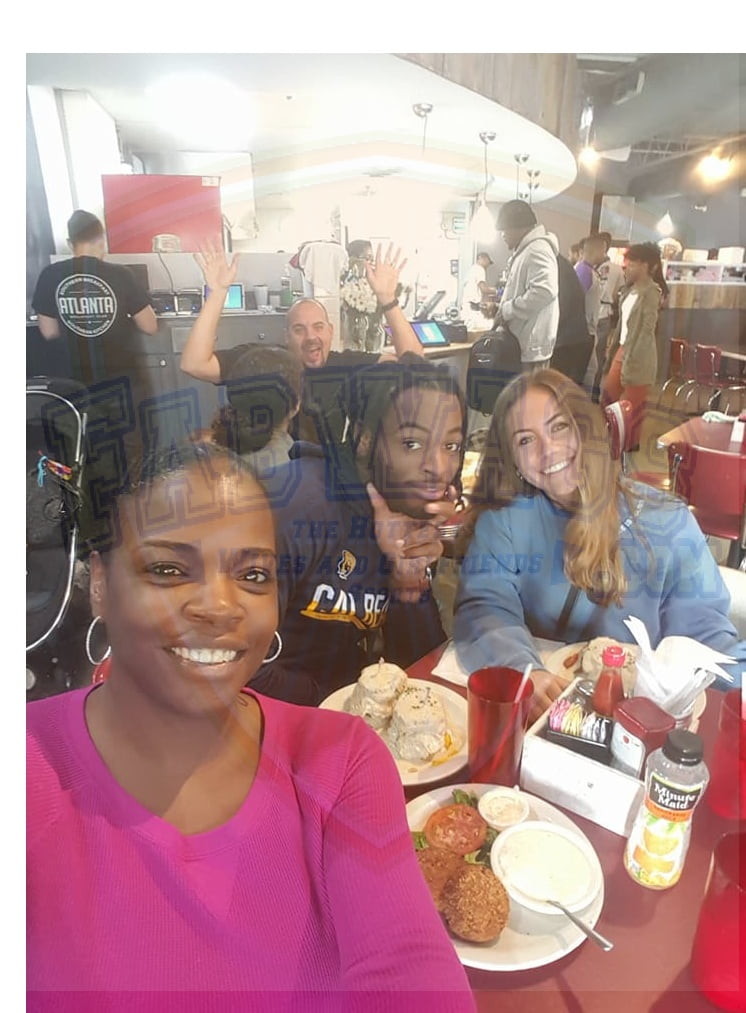 Until that changes, we can say that Najee Harris isn't dating anyone at the moment, but no worries, we will keep an eye on this guy and his future girlfriend.