Jamie Dawson is the wife of former NFL receiver JaJuan Dawson –whom reports say was found dead at age 37. According to reports, a body believed to be Dawson was recovered from Lavon Lake in Collin County, Texas on Monday evening.
Apparently, Dawson a husband and father, went missing after falling off of a boat on Sunday.
He was was drafted out of Tulane by the Cleveland Browns in the third round of the 2000 NFL Draft. He played three seasons in the NFL, amassing 52 receptions, 664 yards and two TDs for the Browns and Houston Texans. According to his LinkedIn he was a Sr. Sales Representative at Boston Scientific.
Jamie was born Jamie Cole, December of 1978. According to her Facebook she grew-up in Cleveland Heights, Ohio. She holds a Master of Business Administration from Sam Houston State University from 2011-2013 and a BA from Temple University which she attended from 197-2001.
According to her LinkedIn she works in Marketing. The 36-year-old is currently a Regional Marketing manager at Sidley Austin LLP in Texas. Prior to that she worked Landry's Restaurants Inc. and  Baker Botts as a Client Relations coordinator and Business Development manager.
Her summary says she is a "Marketing professional with extensive business development, corporate event planning and brand positioning experience. Maintains a broader experience base for business development that targets specific client retention, client service needs assessment, relationship management and cross-selling objectives."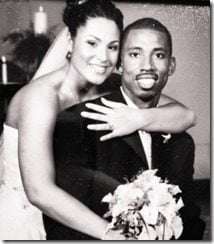 Last year she posted to her Facebook the photo above and wrote:
10 years ago today this man swept me off of my feet. The fairytale every girl dreams of, except he was the real deal and right on time. I could not have asked for a better father for my children and partner in this life. He makes me a better woman, wife and friend. Someone who knows my heart and supports my dreams, I intend to spend the rest of our years together returning the favor.
According to marriage records, Jamie and JaJuan were married on February 28, 2004. At the time of their marriage, Jamie was 25, and Jajuan was 26 years old. They have two young daughters together, they all shared a home in Texas.
At the time of the incident, his family was with him reports say. We send our condolences to Jamie and the rest of JaJuan's relatives.