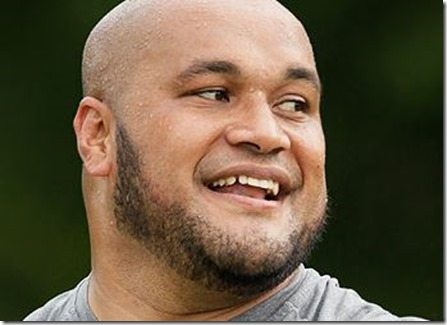 You ought to hear the amazing story of Tongan NFL player Ma'ake Kemoeatu! For the past year he's had to put his career on hold but it has been for a cause that would melt anyone's heart.
The 35-year-old Attended Kahuku (Hawaii) High School and majored in sociology at Utah.He and his younger brother Chris –also an NFL player –were of several Tongans known to play in the NFL and are both Super Bowl Champs.
Ma'ake was signed by the Ravens as an undrafted free agent in 2002. He also played for the Carolina Panthers and Washington Redskins.
Kemoeatu started all 16 games of the 2005 season, making 40 tackles and one sack. He then moved on to Carolina for three seasons before tearing his Achilles tendon. Kemoeatu signed with the Washington Redskins for the 2010 season, but wasn't fully healed by the time it began. Even though he couldn't fully flex his right foot, he played through the injury, started 12 games and made 29 tackles. The Redskins cut him the following July.
It hasn't been easy for Ma'ake but what was ahead of him made his career play second place.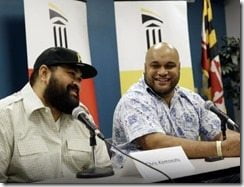 The Kemoeatu brothers might have been close in the past, both athletes, both drawn to a sport they love, but there is one more powerful reason.
Ma'ake gave up his career in order to help his ailing brother who suffered from kidney problems since age 8, but managed to play seven seasons with the Pittsburgh Steelers before he was forced to retire in 2011. The following year Ma'ake retired in order to be with his brother.
After discovering in early 2013 that Chris needed a kidney transplant because he had advanced kidney disease Ma'ake gladly gave a kidney to his brother. Luckily, he was a 99 percent match.The brothers needed to lose some weight before they were able to proceed with the transplant.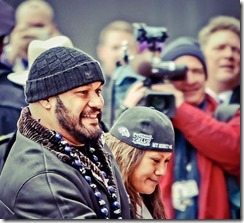 Ma'ake lost 70 pounds, to lose the weight, Kemoeatu worked out every weekday morning with MASE training in Ashburn, Va. Then he did 90 minutes of Bikram yoga in a 110-degree room four times a week at night. He did just the yoga on Saturdays and Sundays.
His diet consists of a Body By Visalus shake for breakfast, a piece of chicken or fish for lunch, a second shake in mid-afternoon, then another shake if he's hungry enough for dinner.
Losing weight wasn't the only obstacle delaying Chris 'operation. After the two brothers had lost enough weight, it was discovered that Chris needed surgery to fix a heart problem.
He underwent heart surgery this past June and had the kidney transplant in late August.
The  6 ft 5 in has been pretty busy looking after his brother, but who takes care of him? Is there a Missus Kemoeatu? He appears to be flying solo these days but we wouldn't worry too much about him finding the right gal; what girl wouldn't appreciate what the fella did for his brother? That goes to show the kind of man he is!