Elizabeth Quenneville
Meet the lovely Mrs. Elizabeth Quenneville; she is the lovely wife of NHL coach Joel Quenneville known as Coach Q. He is the current head coach for the Florida Panthers. Prior to that, he was the head coach for the Chicago Blackhawks, they fired him on November 6, 2018.
Coach Q" famous for his mustache, is married to Elizabeth, a native of Connecticut. The couple met during his job with the Hartford Whalers. They live in Hinsdale, Illinois.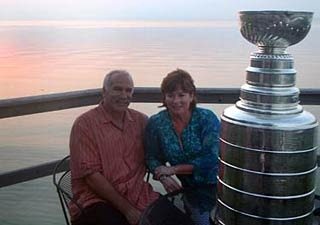 Elizabeth and Joel have three children: a son, Dylan, and two daughters, Lily and Anna. Joel is of French-Canadian ancestry, after working in the U.S. for over 30 years he passed the USCIS naturalization test required to become a US citizen on May 24, 2011. He now holds citizenship in both the USA and Canada.
Elizabeth Bonneville, later named Elizabeth Quenneville, has been married to Joel for 25 years.
"Thank God I didn't know him before the mustache," Elizabeth said, laughing. "I've seen pictures of Joel younger without it, but as long as I've known him, he's always had it. It scares me if he didn't have it — what if I didn't like it?"
Elizabeth Quenneville prefers the seats across from the players' bench so she can see her husband at work, and with so many years together, she can easily read his body language. When angry, Elizabeth says, he tugs at the leg of his pants. When pleased, he pats a player on the back or the shoulder or cracks a smile.
"I can really see what's going on in his head," she says. "Joel likes to think. He likes to work things out."