Nikole Miller
Nikole Miller is the chick who has been in a relationship with college football cornerback, Jourdan Lewis. Her boyfriend was recently arrested on domestic abuse charges.
Kolie's beau was born Jourdan Julian Lewis on August 31, 1995. The Michigan native was named First-Team All-American, and First-Team All-Big Ten in 2015 and 2016.
He is graduate from Cass Technical High School where he helped lead his team to back-to-back Michigan Division 1 State titles as a junior and senior.
As a freshman in 2013, he earned first varsity letter and appeared in eight games as a reserve defensive back, he also contributed on special teams and allied 17 tackles and two pass breakups.
In 2014 he earned second varsity letter and appeared in 12 games, making seven starts. During his junior year in 2015, he appeared in 13 games, making 13 starts at cornerback.
In 2016 he was a Jim Thorpe Award Finalist and made the Walter Camp Football Foundation All-America first team.
The three year letterman has appeared in 48 games, making 30 starts at cornerback and is the school's career leader in pass breakups.
He is also a two-time All-Big Ten; 2015-16 first team (coaches and media) and a two-time All-American.
According to his college bio, he enrolled in the College of Literature, Science and the Arts, majoring in sociology.
The Michigan Wolverines cornerback and current NFL draft prospect was accused of assaulting his 20-year-old girlfriend earlier this week.
According to reports Lewis' girlfriend called the police after the alleged incident, and after further investigation by authorities, the prosecutor's office levied the assault charge.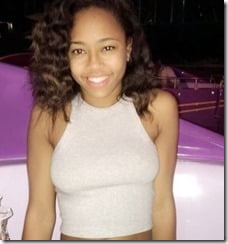 Nikole Miller who goes on social media as 'Kolie Koleee' according to her twitter handle, –is also a University of Michigan student. She and the 5-9; 171 lbs. player have been in a relationship for a while, presumably since high school.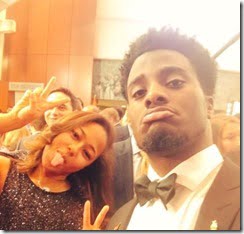 Pretty Nikole Miller has been very supportive of her man and his football career up until this point. She often posts pictures of the two, along with loving messages for Lewis.
Though her name remains to be a little bit of a mystery as authorities have yet to name her officially, we did some digging and she may or may not be the daughter of a famous VH1 star known as 'iamsodeelishis' real name Chandra Davis. Check out the photo below where Chandra says she is proud of her 'daughter' being a third year college student.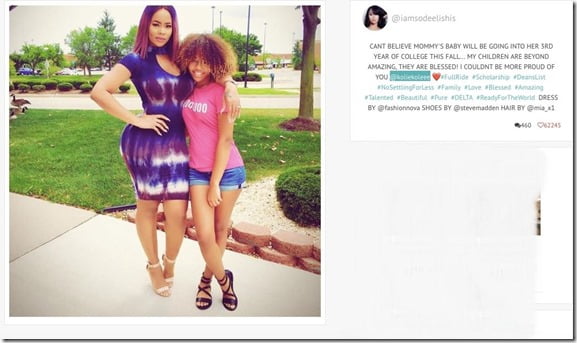 iamsodeelishis captioned the photo:
Can't believe mommy's baby will be going into her 3rd year of college this fall…my children are beyond amazing, they are blessed!! Couldn't be more proud of you @KolieKoleee
You can follow Nikole Miller on Instagram here, Twitter here.