Pamela Webster
Pamela Webster divorced her husband NFL player Mike Webster six months before he died of a heart attack in 2002 at the of age of 50. For a long time, Pam felt guilty for his death, it was until later that Pamela learn Mike's downfall and death was the result of a series of concussions he suffered while playing football that damaged his brain. Mike Webster aka Iron Man was considered the best center in the NFL, won Super Bowls and a Hall of Famer inductee.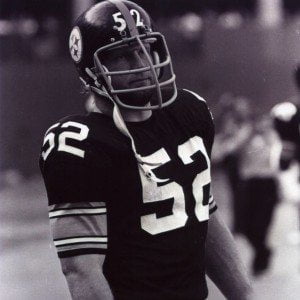 Mike Webster aka Iron Mike was considered the best center players in the NFL, but he died far from the man he was during his glorious days in the NFL. He was born in Wisconsin to a potato farmer father William Webster and Betty Miller also parents of his brothers Joey  and Reid and sisters Wendy and Jane. A long history of mental illness in both his father and mother side contributed to his parents' divorce when he was 10. He graduated from Rhineland High School where the football stadium was named after him. The Mike Webster Stadium. After high school he attended at the University of Wisconsin, he was all-Big Ten with the Badgers.
He was drafted in the 5th round (125th overall pick) of the 1974 NFL Draft by the Pittsburgh Steelers. Webster helped the Steelers win four Super Bowls and played  more games and seasons with the Steelers than any other player with Pittsburgh, by the time he was left out he  He was the player who played more games (220) and most seasons (15) in Pittsburgh, his  number 52 was never reissued even though by the time he retired the Steelers were no longer retiring jerseys.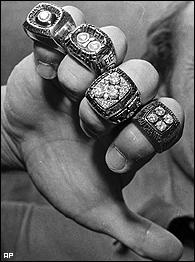 After the chapter of his life as a Steeler came to an end he found himself a free agent working for the Kansas City Chiefs as their offensive line coach and then a starting center. He retired two years later, although he was certain he would no longer have a role in the field, he hoped to start a coaching career, sadly that didn't work just like a series of business where he lost all of money, his marriage ended, his health worsen with time, but the worst was yet to come.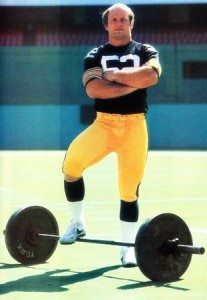 In July, 1991 after his retirement, the Kansas City offered him another assistant coaching job, he took it but left two weeks later  when NBC offered him a broadcasting job that he also quit after NBC offered him a limited schedule with a  low contract offer.
Born with the kindest heart, Mike Webster was a natural  leader described by his teammates and staff as the hardest working athlete they've seen, he was the first to be on the field and the last to leave, no other guy worked as hard as he did, some thought it was due to his determination and discipline he knew all the plays by heart, like if he was the man that came up with each one, little did they know that it only took one look for him to remember every single one, it wasn't that big of a deal for Mike after all he had photographic memory.
His body was his most dangerous weapon, his brilliant mind his faithful ally, but when his mind began to fail on him he felt frustrated, angry, humiliated and depressed. He forgot things, he couldn't work because his hands and feet hurt so much, he was losing his mind,  his marriage was deteriorating and his finances were deep in debt, worst of all he no longer recognized the man he saw in the mirror. Pamela also noticed the change, he was not the same man she married two decades ago.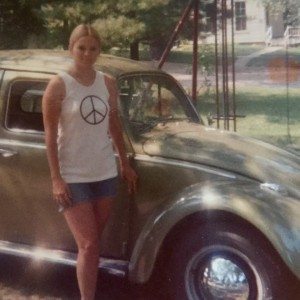 Pamela Webster from Lodi, Wisconsin grew up in a way different environment that Mike grew up. Her father was a loving hard working man who had two jobs to support his extended family; one as a bus driver for sports teams and the other in the heating and sheet metal industry, both job provided everything Pam and her seven sisters and brothers needed, her mom was a nurse.
She met Mike met on a blind date while he was a student at the University of Wisconsin, she was an employee at the athletic department ticket, and never really expected the big handsome star player with the Badgers and avid weight lifter would notice her and even less did she expected him to be all charms and kindness.
Pamela felt for him just like he did for her it didn't take long before they were married. Their wedding was not long after he signed with the Steelers.
The Websters were blessed with four amazing and beautiful children, first came Brooke, then Colin , Garrett and then Hillary the youngest, the perfect marriage with the most loving and gorgeous children, but when Mike's erratic behavior started to show more often, the portrait of the happy family became a mirage.
Pamela noticed her husband was physically disoriented, his memory was getting worse and he couldn't  focus, he became violent and moody.
He was always the one in charge of handling their finances, but then he stopped paying the bills because he forgot to, sometimes he would disappear for days. Pamela Webster didn't understand what was happening, why was he changing, what was the reason for his depression? Was it her? The years that followed brought something she was utterly unprepared for.
Mike got involved in a series of investments that never worked out, according to ESPN Mike was the CEO and treasurer of a Pennsylvania business known as Pro Snappers Inc in 1991; in a 1992 loan application with PNC Bank he listed himself as an employee of Distinctively Lazer, a graphic printing company in Pennsylvania, that same year he was an investor in Terra Firma Development Trust, a Pittsburgh real estate company.
In 1993 he formed Webster Asset Management Trust with a capital contribution of $230,000, but soon passed into nonexistence he also listed Olympia Steele Sports Management of Pittsburgh as his employer on a hospital admission form that same year where he also carried a business card with the title of director of operations for the Lestini Group.
In 1994 Webster was listed as a director of the National Steroid Research Center in 1994 when he also formed the short-lived Webster Business Enterprises, Ltd. He was offered a job opportunity by the The Chiefs as a strength and conditioning coach in 1994, but like all his business endeavors it didn't worked out.
The money was gone, they lost their house, and Pam had to managed to get money to feed the children, after she got a job as a cleaning lady. He no longer was the one who provided his family, that didn't just made him angry it made him feel frustrated and humiliated, when he didn't know what to do he would walk in the forest, bare chested, sometimes in freezing weather, he told his son Colin that he found himself there in the forest, other times he got in his car and be gone for days, Pam believed their finances was not what bothered him that much, and believed he left because he was angry at her all the time.
It was like living in a tornado," Pam said. "A counselor told us that we were living in so much stress we didn't know what stress was. Mike would leave for days at a time and I didn't understand that he was sick. I just figured he was mad at me.
Pamela Webster found herself in a strange place for once in her life, the man she called her best friend and soulmate was absent even though she could see him staring vaguely at the window in the corner of the room; another man wearing her husband's face was there instead. This man started to appear after Mike's final years in Pittsburgh and Kansas, sporadically at first but more often as the years went by.
Mike Webster her Mike would come back to her and the children after this other man released him and stayed with her until she could her ahold of him, but it became harder to keep him with her, this new Mike would be there more often eventually taking his place. Her Mike rarely raised his voice, this Mike was always yelling at her, her Mike kept his focus, his mind was sharp, this Mike was lethargic, indecisive and forgetful.
Pamela Webster tried to look for her husband in the eyes of that man who was later a stranger to her, he had her husband's eyes alright, she remembered those same eyes that tell her how much he loved her without having to say a word, the same eyes that sparkled just like the eyes of a child when Christmas came. Pam recalled how every Christmas her husband turned into a grown kid, savoring every last drop of the season, but this man was not the same man, he looked like her husband but the eyes on this man revealed not a single feeling, there was no sparkle, no love, nothing in the eyes of the man she is looking at, this Mike didn't even turn his face to her children when they gave him the Christmas gifts they worked so hard to get for him.
Pamela took as much as she could, but by 1992 she had to do something not only for her sake but also for her children, so she left him. Taking with her the memory of the man she felt in love with, the kind giant that would wash the dishes without being told to, the guy who once said that he would be a minister.
Mike Webster was Iron Mike in the field, but he was the most humble, sweet and caring soul off the field; as a teenager growing in a farm he cared for ill animals, his mother said he once took cared of an ill swan and fed him until he was fully healed.
Mike kept bullies in place at school, he never forgot his college friends once he became famous, he always kept in touch, invited them to games, introduced them famous people, he would spend his free time at a charity in the area; it was because of all of the way he was that it became so difficult for family and friends to understand what was happening to Webster.
After their breakup Pam Webster stayed in Wisconsin with the children while he went back to Pittsburgh. Stories about him would come to her ears, and to the ears of fans all over the nation, these stories described in detail the long line of troubles the former star player had, they said Mike was far from the man he was with all the physical injuries he showed and that were the result of the years as a NFL player, he was also homeless, broke, with no food, he lived in his car for some time, he slept under bridges and once at an Amtrak train station, his last permanent address was in 1994. Mike stayed with Pamela from time to time, but then he stopped coming, she tried to divorced him in 1994 and again in 1996 it was until March, 2002, the divorce was finalized by default.
Garrett and Colin were all grown up and they would go to stay with Mike. Both Webster boys lived with him in different times while the girls stayed with Pamela, Hillary the youngest talked to her father every night but didn't see the bad state he was, Garret and Colin witnessed the mental and physical struggles their old man tried his best to handle.
Hand injuries and herniated discs made him a recluse, his anger and mood swings were more than he could handle, after seeing several doctors that came empty handed about what was happening to him one told him his brain was severely damaged.
He was prescribed with Ritalin to help him with the mood swings but not medicine stopped the excruciating pain. A police taser he bought was the only thing that helped him with that and the shaking. Colin Webster recalled how that taser gun was the only and desperate solution his dad came up with after shaking so bad.
He couldn't get more prescriptions of Ritalin after his regular doctor moved from the area, he had no insurance so he forged 19 prescriptions for Ritalin leading to his arrest in February, 1999 and sentenced to probation.
After his arrest, Mike put on a brave face and apologized for what happened he expressed the sadness and embarrassment he felt at a news conference. After that incident the NFL settled to give him an annual payment of $115,000 for a football-related disability.
He  felt so bad because he could't provide Pam and kids with their expenses so when his disability checks started to come Mike saved some for his expenses and send the rest of the check s to Pam.  The checks were intercepted by the Internal Revenue Service who said Mike had not filed taxes in those years, Mike had always pay his taxes on time, but he had forgotten about the taxes for a long time, he forgot to fill the forms.
Pamela Webster and Mike split up once again and divorced in March, 2002. That day in court she had hope to see him again, but she didn't, maybe that was expected after all they had been separated for 10 years, but then again this was the end of their 26-year marriage, he should care at least a little, maybe he was running late? Or something bad happened? Was he alright she thought looking at the chair where he was supposed to be but was empty, next to an empty chair set for his lawyer. Six months later Pamela Webster heard from her now ex-husband, first a call from a woman called Sunny Jani and then the news coming from trembling voice of her boy.
Their son Garrett was the final member of his family that lived with him and last saw him alive. Like his father Mike, Garrett Webster was born with his pop's height and skills of that of a football player, he expected more support from his father when he told him he wanted to play football, he was shocked to his core when his father told him that he should be a lawyer instead.
Mike tried changed his mind about football but Garrett was reluctant about his decision and told him that he was going along with or without his support, he was not going to let him down, that little boy who was now probably taller than him had been thru enough already, he always smiled when he forgot things, and didn't complain when there wasn't enough to eat, his little Garrett like his other children looked at his with the same pride fans used to looked at him during his glorious days in the field when he ripped the sleeves on his jersey in the coldest weather so his rivals couldn't get a hold of him, he was the man who first wore the sleeveless shirts, most teams wear them now, but he was the first no matter how the weather was.
He was Iron Mike at that time, he wasn't anymore but Garrett's face told him otherwise. He was going to be his son's right man all the way, Mike taught him all he knew about football, he trained him and even tried to jog with him despite the pain, he was always at his games, but tried to keep a low profile.
They were short on money and kicked out of their tiny apartment, thank God Sunny Jani helped him with the low payment for the other apartment, no furniture though just empty pizzas boxes on the floor where he and Garrett slept.
Mike's new friend Sunny Jani was a lifelong Steelers fan. They met in 1994 at an autograph show in 1994. and a married woman who ran a grocery store where he would crash the nigh became the center player's caretaker, she was the one who convinced him to go to the Hall of Fame Ceremony where Terry Bradshaw his longtime teammate introduced him as the 1997 Hall of Fame inductee. Pam and the children were there by his side. She was hoping for the best but knowing that he was ill and could snap in the middle of his speech.
"He was like a loose cannon, You didn't know what was going to happen. The children and I were worried. We didn't want him to embarrass himself there."

"There were people that still love him and remembered him in a certain way, including us. It was really important to me that he wasn't going to be laughed at."
He had trouble completing a sentence, could he give a speech even with 80 milligrams of Ritalin to help him concentrate?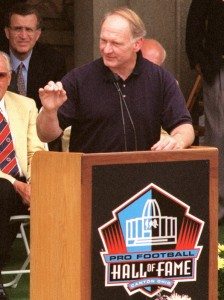 Pam wondered, she was relieved to see him give a speech without notes, but was terrified to see him walk towards her and the children after he asked them to stand.
"I'd like the members of my family Pamela and the children to stand"
Those were the words that kept playing in her head as she saw Mike walking to where she was standing in front of hundred of people in the auditorium in Canton where the Hall of Fame ceremony was being held, the cameras turned to her direction, tiny drops of sweat began to form on her forehead and then ran down to her eyes blinding her vision; she could rubbed them though, nobody would know it was sweat for being nervous, it could be tears of excitement.
Mike's long legs turned the 15 steps a normal man with regular height would take from the podium to her to just 7 steps, the longest 7 steps she thought,  it seemed like he was walking in slow-motion, was he really walking that slow? Was she the only one who noticed it? She looked at the smiles on her children's faces, and the same smiles in the people sitting a few rows to her, maybe there was something to smile about? Toilet paper on her shoe? No way! But then she was back to real time, taken from her thoughts and looking up to the face of Mike Webster, what was he going to do now?
Whistles, cheers, applauses and the familiar smell of her husband's cologne when he took her and the children in his arms told her nothing bad happened, what a relief and what splendid night it turned out to be but then he disappeared.
While Mike turned his back to others he allowed Sunny Jani to help him, he would call her when he didn't know where he was after driving for hours, she was who helped him with the payment of the apartment he and Garret moved in to when they were left in the street, she also drove him to the hospital where he took his last breath and she was who called Pamela Webster to tell her about the gravity of his health that send Pamela and the girls running to his bedside.
Pamela didn't get to see him one last time. She was still in the road when Garrett called her to tell her Mike was gone.
On that sad day of September 23, 2002 Pamela Webster found herself on the rode driving to her son's side, not long after he told her his father was at Allegheny Genera Hospital after he suffered heart attack and was not doing well, this was confirmed by Sunny Jani who told her his health was deteriorating rapidly.
Pam hoped to make to the hospital in time, to see him again, to see those eyes, but she didn't; Garrett called her when she was somewhere in the intimidating darkness of Interstate 80 and he told her he was gone, she nearly put her foot on the brake when she heard the news, she couldn't said a word how could she tell Brooke and Hillary? She turned her face to the girls hoping not to reveal anything, but they were smart girls and they knew their daddy was gone.
Could he still be alive if they stayed together? Was she to be responsible for this? One of her former in-laws told her to rot in at the funeral. Maybe she deserved every bit of their hate.
Guilt, remorse and an sorrow surrounded her for so long, she was to blame for his health problems that ultimately led to his death. It was until an autopsy done by Dr. Bennet Omalu who meticulously studied Mike Webster's brain that Pamela Webster found release from all the pain and guilt.  She wasn't guilty for what happened to him, the years as a football player damaged the front lobe of his brain from multiple concussions during his career that cause him cognitive dysfunction. Dr. Omalu named his condition chronic traumatic encephalopathy or CTE; Mike became the first of eight NFL player diagnosed with CTE. by Dr. Omalu.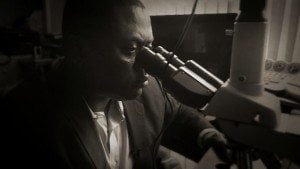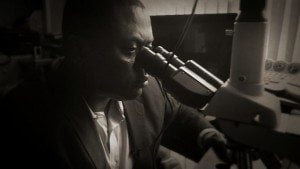 Garrett Webster, 31, is involved in the Pittsburg's based Brain Injury Research Institute whose mission is to encourage people who have suffered from head trauma to donate their brains after death as well as being an advocate to players who have similar conditions that their father had. His older bro Colin Dearborne, 36, got married and became a marine.
64-year-old Pamela Sue Carlson Webster a Lodi High School graduate (1969) resides in Wisconsin, close to daughter Brooke Winter,  39, and Hillary now 29.