Chris Young Wife
Meet Elizabeth Patrick, also known as Elizabeth Young and Chris Young Wife! Chris Young a former MLB Pitcher is nowadays the general manager for the Texas Rangers.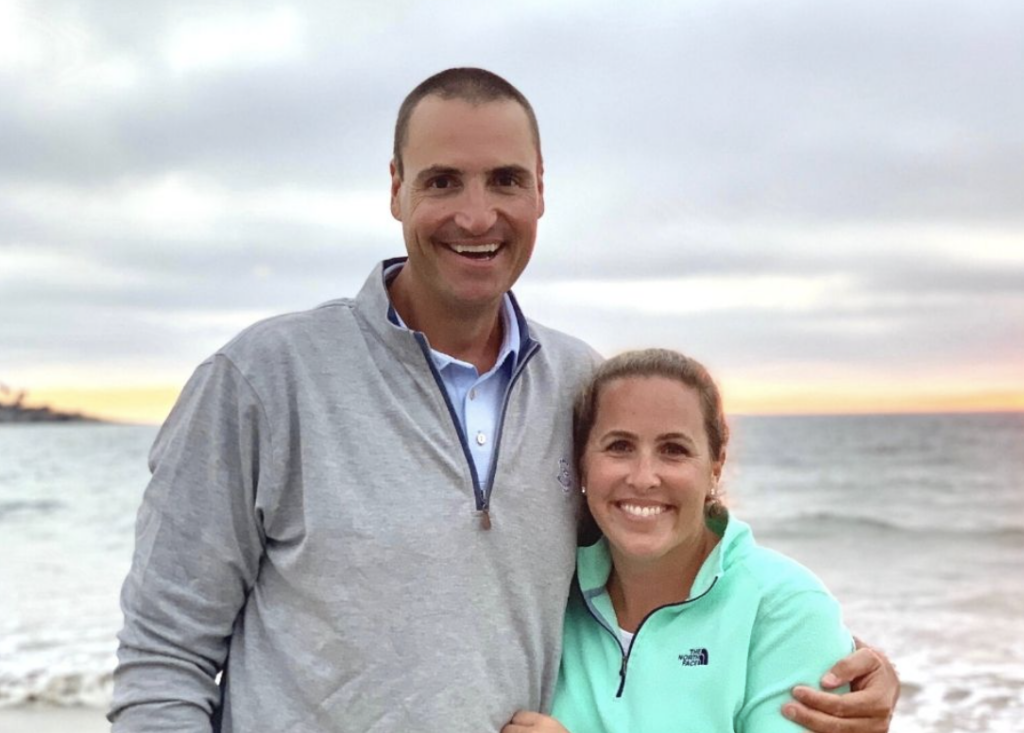 During the 13 years playing in the Major League, Chris young played with the Texas Rangers, San Diego Padres, New York Mets, Seattle Mariners, and the Kansas City Royals.
Elizabeth Patrick
Chris Young wife Elizabeth Patrick, now Elizabeth Young is the She is the great-granddaughter of Lester Patrick, an NHL legend who not only won the Stanley Cup but also made significant contributions as a coach and executive. Lester's legacy in hockey extends to the Hall of Fame where he is honored alongside his brother Frank, son Lynn, and grandson Craig, who had a stint with the Kansas City Scouts.
Her dad, Patrick, the Canadian executive is the Vice Chairman and Partner Monumental Sports & Entertainment; and Chairman, of the Washington Capitals.
Born in 1946 in Victoria, B.C., Mr. Patrick grew up in the U.S. He graduated from Dartmouth College and earned his law degree from the Washington College of Law at American University. He has significantly contributed to increasing the Capitals' involvement in local youth hockey programs.
Patrick has been a key figure in the Washington Capitals organization since 1982 and became one of Ted Leonsis's original partners when Monumental Sports & Entertainment (MSE) was established in June 2010. He currently serves as the Chairman of the Capitals and Vice Chairman of MSE. In the initial five years of MSE, Patrick also acted as Chief Operating Officer, overseeing the operations of three professional sports franchises – the Capitals, Washington Wizards, and Washington Mystics – as well as the Capital One Arena.
The Patrick family has a longstanding association with hockey and the NHL, starting with Lester Patrick, 's grandfather, who was a coach and general manager for the New York Rangers. The Lester Patrick Trophy, awarded annually for exceptional service to hockey in the U.S., is named in his honor. Patrick and his son Chris, who is the Capitals associate general manager, continued this tradition by winning the Stanley Cup in 2018.
Before Patrick's involvement, the Capitals had never made it to postseason play. However, during his 40-year tenure, they have qualified for the playoffs 32 times, including a Stanley Cup championship in 2018, and have recorded the second-most wins in the NHL since the 1982-83 season.
Her brother Chris is Capitals' Director of Player Personnel. Elizabeth Patrick graduated in 2002 from Princeton University and later law school in Washington. Chris and Elizabeth have three children, Cate (15), Scott (13) and Grant (11).
Chris Young MLB Executive Career
Upon his retirement in 2018, Chris Young transitioned into an administrative role as the Vice President of On-field Operations, Initiatives & Strategy. In this role, he worked under Joe Torre, the Chief Baseball Officer for MLB, and reported directly to Peter Woodfork, the Senior Vice President of On-field Operations, on May 14, 2018.
He was elevated to the position of Vice President of On-field Operations, Initiatives, and Strategy. Then, in February 2020, he ascended to the role of Senior Vice President, taking over Joe Torre's duties as the MLB's authority on disciplinary action, which includes determining fines and suspensions. Additionally, Young was given oversight of the On-Field Operations and Umpiring Departments.
Chris Young High School Career
Young, an alumnus of Highland Park High School, was an exceptional athlete who played both basketball and baseball. He scored over 1,000 points in basketball and was a winning pitcher in baseball. Despite being a sophomore, he was promoted to the varsity basketball team due to injuries and succeeded in leading his team to a district-leading record and first place in polls. His prowess also took his basketball team to the UIL State Tournament championship game. For his outstanding performance, he was named a Texas Association of Basketball Coaches' first-team All-State selection and the District 9-4A Most Valuable Player.
On the baseball field, Young showed remarkable abilities as well. He pitched a combined no-hitter in high school and demonstrated his home run power in a 10-run rule victory where he pitched another no-hitter. His impressive performance led to his selection to the Texas High School Baseball Coaches Association 1998 All-State baseball team. After considering multiple universities, Young announced his decision to attend Princeton to continue his academic and athletic journey.
Chris Young College Career
During his time at Princeton University, Young proved himself an exceptional athlete in both basketball and baseball. He set freshman records for points and rebounds in basketball, earning him the title of Ivy League Player of the Year. In baseball, he led both Princeton and the Ivy League with a 2.38 ERA, helping his team secure their first Ivy League title since 1996. Young's talents did not go unnoticed, as he was named Ivy League Rookie of the Year in both sports. After his successful college career, Young was selected by the Pittsburgh Pirates in the third round of the 2000 amateur draft and signed a significant contract.
Chris Young MLB Career
In 2000, Chris Young was drafted by the Pittsburgh Pirates and began his professional baseball journey.
He had successful seasons with minor league teams Hickory Crawdads and Brevard County Manatees in the early 2000s.
In 2003, Young was promoted to the Harrisburg Senators, where he showcased a strong performance, including an eight-strikeout final outing.
The Texas Rangers traded for Young in 2004, and he started the season with their affiliate, the Frisco RoughRiders.
He was promoted to the Triple-A Oklahoma RedHawks later that year. During his stint, he earned Pacific Coast League Pitcher of the Week honors due to his outstanding performance.
Young's second start in the Triple-A league was particularly noteworthy as he took a no-hitter into the sixth inning.
Eventually, Young made his major league debut with the Texas Rangers.
Chris Young made his major league debut with the Texas Rangers on August 24, 2004, in a game against the Minnesota Twins.
His first major league decision came in his second start on August 29, where he suffered a loss to the Baltimore Orioles.
On November 19, 2004, Young signed a three-year contract with the Rangers, lasting through 2007.
In 2006, Young signed with the San Diego Padres.
On April 10, 2007, Young secured a four-year extension with the Padres, worth $14.5 million with a club option for 2011.
Young signed a contract with the New York Mets on January 17, 2011, which was worth $1.1 million with potential to reach up to $4.5 million through incentives.
On March 26, 2012, after undergoing shoulder surgery, Young returned to the Mets on a minor league deal.
Young signed a minor league contract with the Washington Nationals on February 21, 2013, but was released by the Nationals on March 26, 2013. He was re-signed by the Nationals on April 4, 2013, and assigned to Triple-A Syracuse.
Young once again signed with the Nationals on a minor league deal on November 19, 2013, but was released on March 25, 2014.
On March 27, 2014, Young signed a one-year deal with the Seattle Mariners and made his first appearance as a relief pitcher on April 6, 2014.
Young then moved to the Kansas City Royals, signing with them on March 7, 2015. He later secured a two-year $11.75 million contract with the Royals on December 7, 2015.
The Royals designated Young for assignment on June 23, 2017, and he was immediately released.
Young's final professional contract was a minor league deal with the San Diego Padres, signed on December 29, 2017. He was released from this contract on March 27, 2018.