Richard Jefferson
Richard Jefferson, the veteran NBA forward could be playing on his last NBA final? Jefferson was born on June 21, 1980 in Los Angeles, California, USA as Richard Allen Jefferson.
He was drafted 13th overall by the Nets in 2001 after playing three seasons at the University of Arizona.
The 6-7 forward out of Arizona was a member of two NBA Finals teams with the Nets (2002 and 2003) and has played in 105 playoff contests (73 starts) over his career with averages of 12.8 points on .470 shooting from the field, 4.8 rebounds and 2.1 assists in 31.2 minutes per game.
Jefferson (6-7, 230) has appeared in 1,008 games (791 starts) over his 14-year NBA career with New Jersey (currently Brooklyn), Milwaukee, San Antonio, Golden State, Utah and Dallas. He was singed to the Cavaliers last year.
The famous player who appears to be currently single, has been in a number of relationships. Jefferson used to have a thing with a blonde gal named Jennie Finch. They hooked up in 2000 after meeting at fellow stars at the University of Arizona.
Finch went on to become a former collegiate All-American, right-handed softball pitcher and first baseman originally from La Mirada, California. She pitched for the Arizona Wildcats, the USA national softball team and the Chicago Bandits. She is currently married to Casey Daigle.
Richard Jefferson was engaged to Kesha Nichols. They started dating in 2006 after meeting as she used to be a Nets dancer, he was a player at the time. They got engaged in 2008. After 3 years together they split up in July, 2009.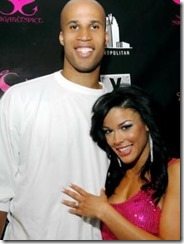 Basketball Wives star Kesha Nichols is famously known for being left at the alter from her fiance Richard Jefferson the day of the wedding! Rumor had it that Kesha was dumped through email by Richard.
Richard also dated and was married to model, Teresa Lourenco.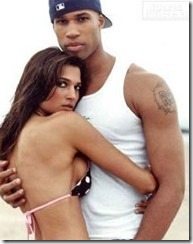 Teresa Lourenco was born in Trinidad in 1981 and raised in Germany. She began her modeling career at age 14 after she and her mother made the move to Hamburg, Germany. She has a younger brother named, Kevin.
The decision to move to Germany soon paid off, at age 16, Teresa Lourenco had her breakthrough when she entered and won the contest in Paris "Les Trophees de la Mode" "The fashion Awards" in the category "best newcomer face".This was the beginning of her career as super model.
Following her 1997 high school graduation, she became a full-time model, and started shooting countless editorials, campaigns, and went onto to do Fashion Week in every city from New York, to Milan-Paris.
The stunning model has worked for major brands, including Tommy Hilfiger, Victoria's Secret, Valentino, Gap, and Christian Dior.
Ever since breaking in the industry, Teresa Lourenco has won a number of acknowledgements, she has since gone on to win an International Design Award as the best new generation model. The busy model was able to finish college with the help of a private teacher.At the age of 18 she bought her first apartment in Manhattan, New York.
She has also done some acting. At age 16, she made several TV show appearances. The model can also be seen in music videos for Lenny Kravitz and Babyface.
Teresa Lourenco is also a mom, she gave birth to daughter, Zaria Lourenco Noel in June of 2010. It is not clear why she and Jefferson split.
You can find hot Teresa on Instagram here.