Roanna Naquin
Roanna Naquin is the lovely MLB mom of Cleveland player, Tyler Naquin. Her 25-year-old outfielder son has been enjoying his rookie season.
Naquin was named the American League Rookie of the Month for June and July 2016. And mama, Roanna couldn't be more proud.
Roanna Naquin is married to hubby, Ken Naquin. Together they are the parents of two sons, including Tyler. Roanna Naquin is also the mother of Tyler's older brother, Zac.
When it comes to talk about the moms of famous athletes we do it with our outmost respect and Ms. Naquin is no exception. We found out very interesting details about her and all we can say she is one brave and strong woman.
Roanna Naquin underwent a bilateral mastectomy last November. Following a number of health scares she opted to get surgery in order to feel mentally and physically ready in time for baseball season.
The wife and mom of two, survived breast cancer in 2011, but the disease fought back again. To say Roanna Naquin has been a devoted fan and supporter of her son, is an understatement. From the time he played for the Awesome Ducks, a T-ball team assembled by a group of fathers at a Texas church, and throughout his collegiate and Minor League seasons, Roanna drove to attend for as many of his games as possible.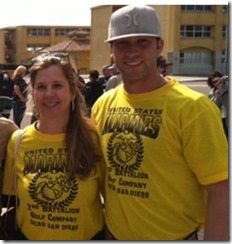 Proof of that is, when she watched from a wheelchair as her boy played in the College World Series for Texas A&M in 2011. Her son was selected by the Indians in the first round, with the 15th overall selection, of the 2012 Major League Baseball Draft. Naquin played for the Carolina Mudcats of the Class A-Advanced Carolina League and the Akron Aeros of the Class AA Eastern League in 2013.
But this year, Naquin fought for a job in Spring Training to make the 25-man roster. And guess what, Roanna was there. When he made Cleveland's roster for Opening Day, she was there; so, making the decision to get the invasive procedure to watch her son on his big year, was no problem.
Roanna, who works in the dental field, is described by her son as 'tough as nails.'