Corinne Gobert
Meet Corinne Gobert; she is the beautiful and loving mother of NBA player Rudy Gobert. Her son is the French center player for the Utah Jazz. Prior to the NBA, Gobert played with the Bakersfield Jam, Chloe Basket.
Corinne Gobert welcomed her son Rudy with her ex-husband Rudy Bourgarel. Mr. Bourgarel was born on August 27, 1965, in Guadeloupe, France. In addition to playing with France National team, he played with French Stadium in 1984, Racing CF from 1988 to 1990; joined Saint Quentin in 1990 and ended his career with Toulouse ASPTT in 1994.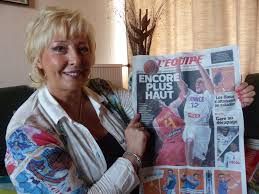 Corinne Gobert was born in Saint-Quentin, Champagne-Ardenne, France; where she still lives. Mrs. Gobert a retired cosmetologist was a single mother of two when she met Rudy Bourgaret.
They welcomed their son on  June 26, 1992, but by the time her son was three, Corinne and Rudy split up.
 He moved back to his hometown in Guadeloupe and she stayed in Saint-Quentin with her three children.
Mrs. Gobert raised and supported her son especially when he got himself in trouble in school.
Rudy wasn't always so sure of himself, she says. He was an excellent student but would get into fights at school, I tried to help him channel his aggression into sports: track and field, boxing, karate, even Ping-Pong.
Eventually, he found basketball, the sport that dragged him out of the apartment he lived with his mom until the age of 15.
So, Corinne is for sure Rudy's #1 girl, but perhaps you are wondering if there is #2 Girl in Gobert's heart? We haven't found her thus far. Some people believe he dated or is still dating Bianca Fairchild, however, there isn't anything to support that claim.