Kathleen Addazio
Meet Kathleen Addazio, formerly known as Kathleen Donoghue; she is beautiful, not to mention the loving wife of college football coach Steve Addazio. Her husband is the head coach for the Eagles at Boston College. Coach Addazio a former football player at Central Connecticut, coached at Temple prior to joining the Eagles in 2013.
To summarize, Coach Addazio started his coaching career at Western Connecticut State in 1985; subsequently joined Cheshire High School and Syracuse in 1995. He became the tight ends and safeties coach at Notre Dame in 1999 and offensive lineman coach at Indiana in 2002; three years later joined the Florida Gators, before joining Temple in 2011.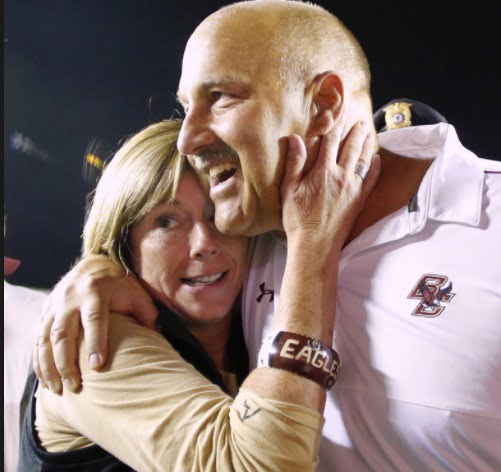 Mrs. Addazio, was born Kathleen M. Donoghue on February 27, 1959. She and Steve tied the knot in Fairfield, Connecticut on June 7, 1986. Together they have three children; Jessica, Nicole, and son Louie.
Nicole, born in 1987, is the director of development at Georgetown University, she graduated with a Bachelor of Science in public relations in 2009, from the University of Florida. Jessica, born in 1990, lives in Arlington, Virginia with her husband and college sweetheart Tyler. Louie Addazio, born in 1994,  a graduate of Boston College is nowadays the graduate assistant at Ohio State.