Suzanne Harris
Suzanne Harris is the loving and supportive wife of NBA coach, Alvin Gentry. Her hubby is the current head coach of the New Orleans Pelicans. Keep reading to know Suzanne Harris's biography.
Suzanne Harris's hubby was born Alvin Harris Gentry on November 5, 1954, in Shelby, North Carolina. The former basketball college player has a coaching career spanning for over three decades.
He played college basketball at Appalachian State from 1973 to 1977 and began his coaching career as an assistant for Baylor in 1980.
The NBA coach was hired to take over the New Orleans Pelicans in 2015. He had his first NBA head coaching job with the Miami Heat in 1994, then went on to coach the Detroit Pistons, Los Angeles Clippers and Phoenix Suns over the next twenty years.
As an assistant coach on the Golden State Warriors, he helped the team reach the NBA Finals in 2015.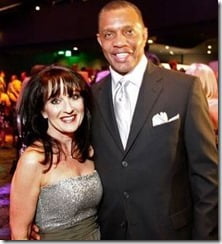 Suzanne Harris was born in 1958. She is Alvin's second wife. She met her hubby during his short stay in San Antonio. At the time, Suzanne Harris was in charge of corporate sales for the team.
The former corporate sales director tied the knot to Gentry in 2010. They have welcomed two children, sons: Matthew and Ryan.
The couple's special day was featured in the 23rd edition of the Arizona Wedding Magazine. Mrs. Gentry had this to say about marriage
"We deeply love each other and are committed to making it work,"  "It takes two people willing to communicate and compromise for the good of the relationship. It requires respect, perseverance and forgiveness."
Her man was previously married to Pat Sue DeLuca. Alvin and first wife ended in divorce just five years later. From his first marriage he is the father of daughter, Alexis Gentry. Currently, Alexis runs an entertainment and pop culture blog with her mother called TrashWire.
You can find Suzanne Harris as Suzanne Gentry on Facebook here.