Russell Westbrook, the 6'3 point guard for the Washington Wizards is famous for his aggressive play, flamboyant fashion style, his beautiful wife Nina, and certainly his net worth, how much Russell Westbrook is worth?
The  Long Beach, California native played college basketball with the Bruins at the University of California Los Angeles before he was drafted by the Oklahoma City Thunder, formerly known as Seattle Supersonics; he joined the Houston Rockets after having played with the OKC for over a decade, reuniting with his former teammate James Harden; Westbrook requested to be traded from the Houston Rockets after the 2020 season and that's is how he landed a spot with the Washington Wizards who traded John Wall and a 2023-lottery first-round draft pick for Westbrook in December 2020.
Russell Westbrook Net Worth Timeline
Russell Westbrook's net worth timeline takes is back to 2008, when he signed his four-year, $16,349 million rookie contract with Oklahoma, an average annual salary of $4,087,365 million-plus his contract with the Jordan Brand set his net worth at $13 million.
In 2012 signed a five-year, $78,595,310 million contract extension with the Thunder, $15, 719 million annual salaries, and deals with Kings & Jaxs and true Relion, his net worth was estimated around $34 million.
Later in 2016, after signing a three-year,  $85.7 million contract extension with the Oklahoma City Thunder, and a ten-year contract with the Jordan Brand worth between  $150 – $200 million, his net worth was estimated at $58,825,389 million.
On September 29, 2017, Westbrook agreed to a five-year, $205 million contract with the Oklahoma City Thunder, the largest contract in NBA history; his net worth at that time was estimated at $160 million.
Russell Westbrook Net Worth 2021
Russell Westbrook's net worth in 2021 has been estimated at $170 million, his #205 million contract with the Thunder was the largest in the NBA until the Milwaukee Bucks presented Giannis Antetokounmpo with his $228.2 million contract in December 2010.  After the Oklahoma City Thunder traded  Westbrook to the Houston Rockets they absorbed his salary of $41 million per year.
  What is Russell Westbrook salary?
As previously mentioned, after his multi-million contract with the Oklahoma City Thunder, Russell Westbrook's annual salary was $53 million, that sum changed to $41 million after they traded him to the Houston Rockets for Chris Paul on July 16, 2019. Since he joined the Washington Wizards after the end of the 2020 season, Westbrook's annual salary is $ $44,211,146 million.
How Much does Russell Westbrook make a game?
Back in 2017, after Westbrook agreed to a two-year contract extension with the Oklahoma City Thunder he was making $569,512 per game before taxes. According to Darren Rovell, sports business reporter, and senior executive producer for Action  Network HQ. who tweeted about it at that time.
$569,512: What Russell Westbrook will make PER GAME, before taxes, in the last year of new deal.
Russell Westbrook Sponsorships
Russell Westbrook has sponsorships with the Jordan Brand, Kings and Jaxs Boxers Briefs, True Religion, and PepsiCo. His first sponsor Nike came knocking on his door in 2008; prior to wearing the Jordan Brand, Westbrook was all about his Adidas. By the time he joined Team Jordan,  they also had deals with Chris Paul and Carmelo Anthony.
Russell's first commercial with the Jordan Brand and Champs landed on national television in May 2013; Westbrook's romance with the Jordan Brand reached a new level in 2017 when they agreed to a ten-year contract and his own signature shoes in 2018.
"Basketball star and underwear model" was just what Russell added to his resume when joined the Kings & Jaxs family in November 2013, the deal made sense because that same year he made into GQ's 20 Most Stylish Athletes of 2013 issue, Russell placed 12th.
"I have always loved fashion so working with Kings & Jaxs was a natural fit as we both have a fearless and creative approach to style," says Westbrook. These bor briefs are made of a cotton/spandex blend with flat-locked expanding seams and a plush waistband interior for comfort, while high-quality prints and graphics amp up the style factor.
Russell joined the Subway family in 2014, he took to Twitter to announced his new deal with the sandwich franchise.
"

Excited 2 be a part of the

@SUBWAY

Famous Fan Family & great time dressing up subs w/@thejaredfogle

today!

#EatFresh"
Westbrook's sense of style quickly called the attention of True Religion who in February 2015, named him their Marketing Creative Director of their Spring 2015 Campaign called Be So Bold! He worked once again with True Religion for the brand's fall collection in 2016, for which he also collaborated as a designer and included his motto Why Not?
Also in 2015, Westbrook was named the face of Mountain Dew Kickstart (PepsiCo) a year later he appeared in Dew x NBA a commercial for Mountain Dew. Check out Russell Westbrook's best commercial compilations video below.
How much is Russell Westbrook shoe contract?
As we told you earlier Russell Westbrook's new contract extension with the Jordan Brand worth $15 million was described as "the most lucrative total endorsement deal for a Jordan athlete to date," in 2017; the contract awarded him with his first signature on-and-off court shoes in 2018.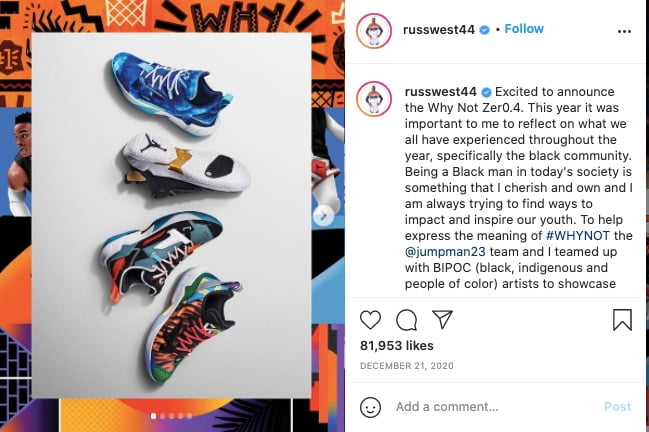 Westbrook's shoes are available at the Nike Store, you can get your hands on those shoes and other of Westbrook's apparel on Footlocker, if you are also interested in buying Russell Westbrook's previous shoes with Nike then you should find them on Amazon.
Westbrook's new zero.4 shoes and FACETASM collection inspired by L.A Workwear included his wife Nina and their children in the photoshoot.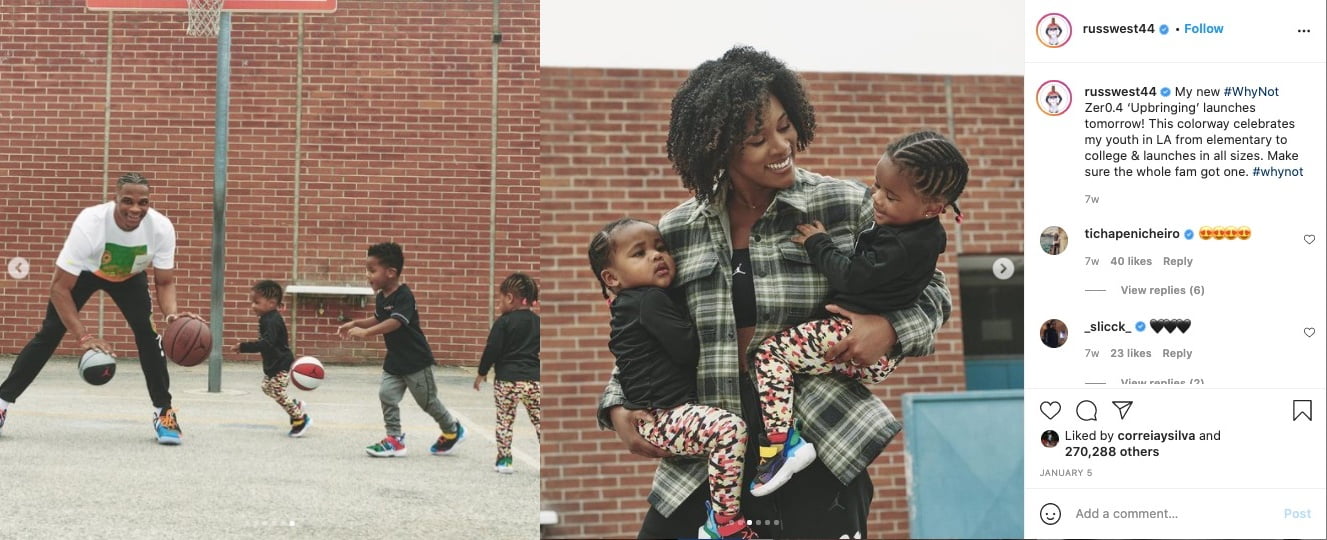 Russell Westbrook Book deal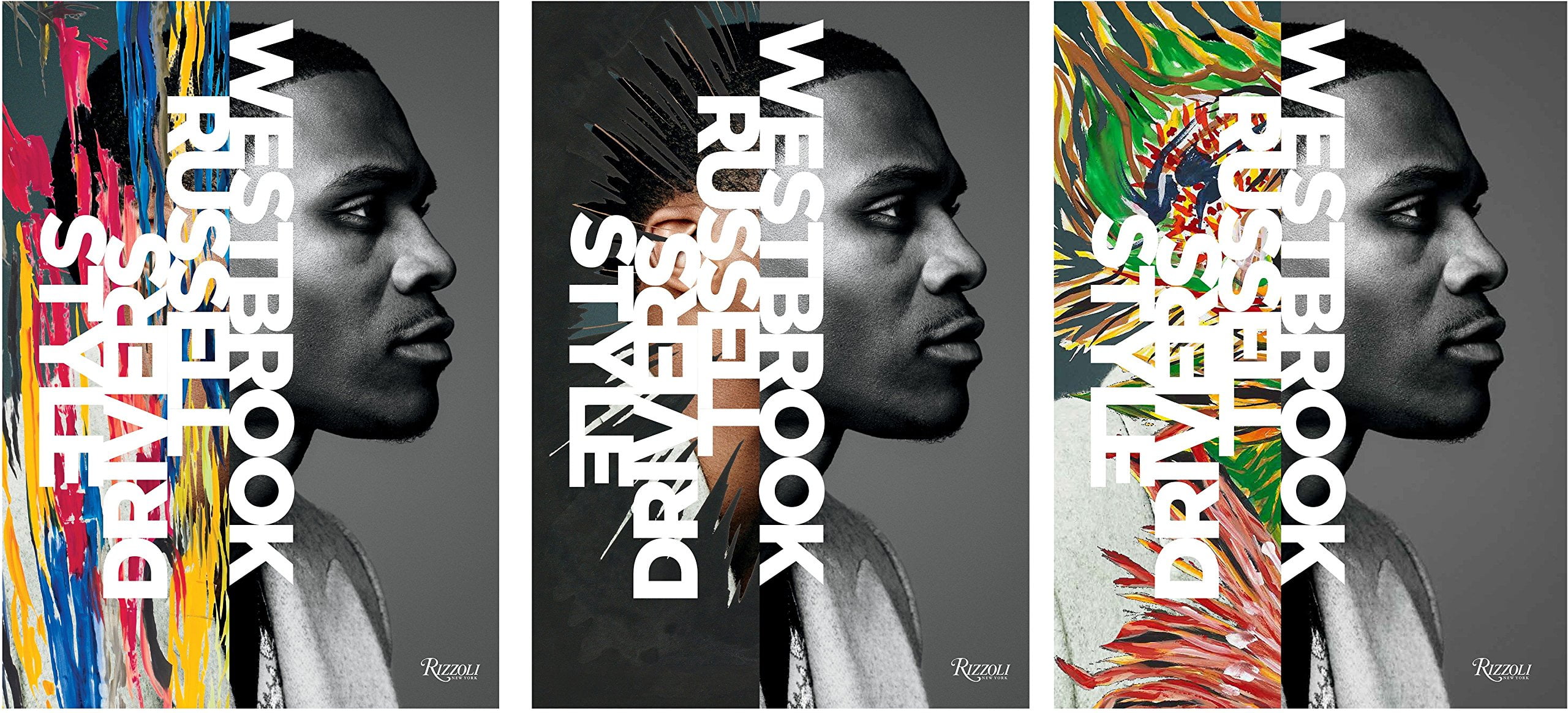 Russell Westbrook's book Style Drivers was published in September 2017, gave readers a look into his life, photographs documenting his sense of style which he also said uses as a psychological weapon.
To me, style is very, very important because it can cross so many different lanes. In the book, we talk to many different people, from all aspects, whether it's people in fashion, sports, or different designers. I think it's important to see how in everything, fashion relates to people across the board.
The Three covers of Style Driver' were designed by Raymond Pettibon and available at Barnes and Noble and Amazon.
This book is a collection of stylish and inspiring images and text that provide a rare glimpse into Westbrook's world, revealing how he uses style as a psychological weapon on and off the court and how he has redefined the role of a contemporary athlete turned cultural figure. From photographs documenting his bold and cutting-edge outfits worn during the playoffs to images of his collaborations with global style brands and original quotes and interviews with fellow athletes, designers, and creative figures that inspire Westbrook, this book explores how to be fearless and confident in fashion and in life, what it means to be stylish, and the importance of authenticity in everything from style and music to art and business. This all-access volume is an essential for his fans and readers interested in sports, style, design, and popular culture.
Russell Westbrook Real Estate
When he moved to Oklahoma, Westbrook, bought his first crib a single-story home for $383,500 that he sold in March 2020 $426,900; when the property first hit the market in October 2019, he was asking $429,500 for the property. In 2012, Russell bought a home in Edmond, Oklahoma for $1.945 million, which he later sold for $1.03 million
In 2015, Westbrook bought 4,100 square feet, five-bedroom, 5.5 bathroom Beverly Hills mansion from Scott Disick for $4.65 million, he subsequently sold it for $4.375 million in August 2020.
According to Brentwood News, Russell Westbrook purchased a 9,000 square feet home designed by Ken Ungar for $19.75 million
Russell Westbrook Ventures and Investments
Russell Westbrook's venture is called Russell Westbrook enterprises nowadays commonly known simply as RWE, according to its website RWE is a vehicle to help Russell positively influence communities by providing products, services, resources, and employment opportunities.
In February 2021, Russell invested $63 million in Varo Bank through his enterprise firm, and after the Jefferies Group advised about the transition. According to Varo Bank, Russell Westbrook will also serve as their advisor to the bank and focus his efforts on improving income inequality issues via Varo-driven programs targeting minority communities.
Russell Westbrook Charity and philanthropy
His Why Not Foundation was created to inspire the lives of all children, empowering to as why not? and most importantly to teach them to never give up; Russell's Why Not? Foundation partnered with LA Promise Fund for the launching of Westbrook's Why Not? Academy the middle and high school in South Los Angeles.
On February 22, 2021, Russell Westbrook's Russell Westbrook Enterprises partnered with Chard Brownstein and his Green Tech Program "to invest in companies seeking to expand and impact the progression, reach, and education of at-risk communities."
"RWE seeks to make a direct impact on communities that are underserved," said Donnell Beverly President of RWE. "As we have launched this trailblazing alliance with Chad Brownstein in financial technology, we intend to expand together to make direct impact investments in healthcare, nutrition technology, and renewable resources."
The news came a few days after Russell invested in Varo Bank following a $63 million funding round. According to Varo Bank, Russell Westbrook will also serve as their advisor to the bank and focus his efforts on improving income inequality issues via Varo-driven programs targeting minority communities.
Russell Westbrook Early life
Russell Westbrook was born in Long Beach, California on November 12, 1988, to Shannon Horton and Russell Westbrook Jr., also [roud parents to Russell's younger brother Raynard Westbrook (b. May 2, 1991), who graduated from the University of Central Oklahoma in 2015 and in 2017 received his Master's degree in mass communications from the University of Oklahoma; Raynard is currently the Chief Content Officer at Russell Westbrook Enterprises.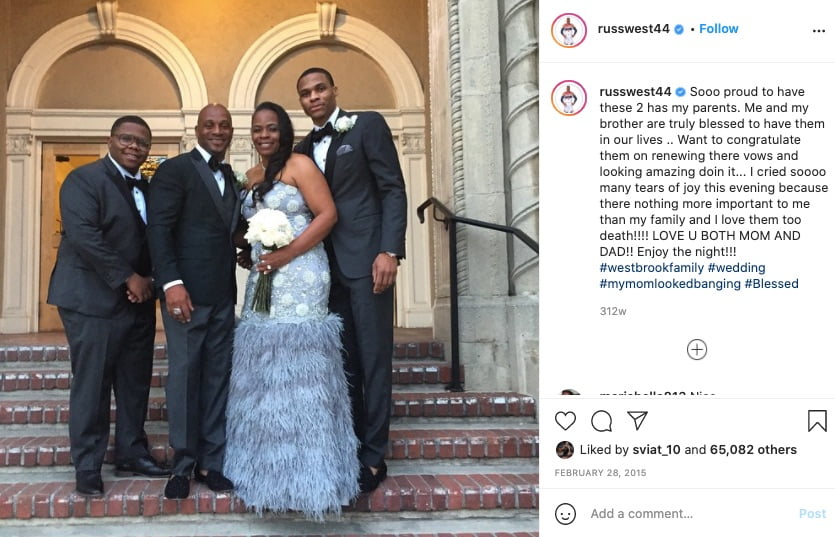 Russell grew up in Hawthorne and spent most of his free time playing basketball with his childhood friend Khelcey Barrs III, both plan to attend UCLA together. Sadly they could see their dreams come true as 6'6 Khelcey Barrs III a promising basketball player at Leuzinger High School in Lawndale, California was 16 when he died on the basketball court of an enlarged heart. In his honor, Russell wears KB3″ on his sneakers and on a wristband.
Russell a point guard at Leuzinger High School recorded 25.1 points, 8.7 rebounds, 3.1 steals, and 2.3 assists his senior year, he committed to play with the Bruins at UCLA after head coach Bren Howland presented him with a scholarship.
Russell Westbrook Career
Westbrook decided to skip his senior year at UCLA and entered the NBA draft, where the Seattle Supersonics, selected him in the first round (4th overall) during the 2008 NBA draft. After ten seasons with the Oklahoma City Thunder, they traded him to the Houston Rockets on July 16, 2019,  the announcement made by the Houston Rockets general manager Dareyl Morey stated that the trade was made in exchange for two protected first-round picks, and other draft considerations and Chris Paul.
On December 2, 2020, Russell said he wasn't happy in Houston and requested a trade, which came from the Washington Wizards in exchange for John Wall and 2023 lottery-protected first-round draft pick that same month.
"Having the opportunity to acquire a player of Russell's caliber and character was something that we could not pass up when looking at both the immediate and long-term future of our team," Wizards general manager Tommy Sheppard said in a release. "With that said, the decision to part ways with John, one of the greatest players in franchise history, was extremely difficult. What he has meant to our organization and our community is immeasurable and will not be forgotten."
Russell Westbrook Highlights
9x NBA All-Star (2011-2013, 2015-2019).
2009 NBA All-Rookie First Team.
Named NBA Most Valuable Player in 2017.
NBA assists leader (2018, 2019).
NBA scoring champion (2015, 2017).
Russell Westbrook Personal life
We told you about Russell Westbrook's parents and brother, they live in Oklahoma. Russell is now happily married to his longtime girlfriend Nina Westbrook, formerly known as Nina Earl, mother of his three children
Russell Westbrook wife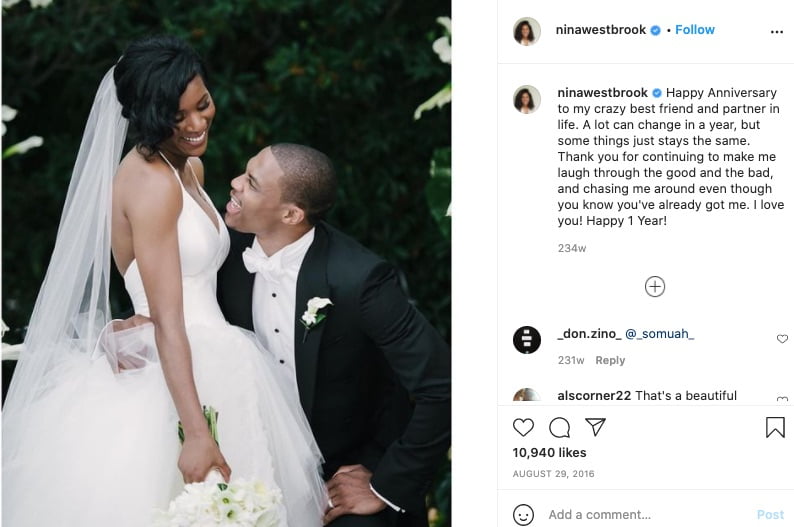 Nina Earl became Nina Westbrook, on August 29, 2015, after dating the NBA point guard since college. The lavish ceremony took place at the Beverly Hills Hotel. Nina wore a jaw-dropping wedding gown designed by Vera wang and later wore another dress designed by  Monique Lhullier while her hubby dressed in Tom Ford. Nina and Russell have since welcomed three beautiful kiddos, son Noah and twin daughters born in 2018. If you would like to find out more about Nina Earl Westbrook read our story about her.
Russell Westbrook children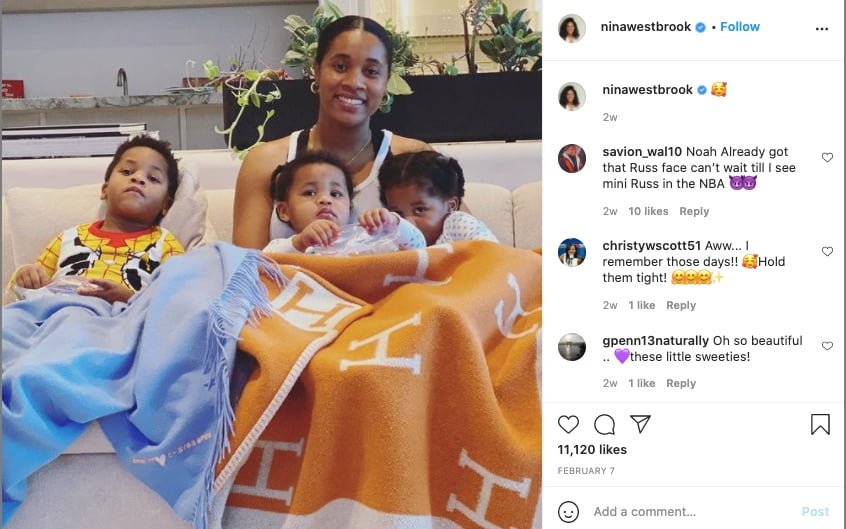 Russell Westbrook and his lovely wife Nina became first-time parents to a beautiful boy Noah Russell Westbrook, on May 16, 2017, little Noah was 7lbs 5oz and 20 inches long. Nina and Rusell added their adorable twin daughters Jordyn and Skye on November 17, 2018.
Russell Westbrook Awards and honors
Russell Westbrook started getting awards and recognition ever since he was in high school when he was named into the first-team All-CIF Division I, Third-team All-State, and was named Most Valuable Player of the Bay League twice.
In college, he was named  All-Pac-10 Third Team, Pac-10 All-Tournament Team, Pac-10 Defensive Player of the Year in 2008
During his second year playing in the NBA. Westbrook was named into the NBA All-Rookie First team, named NBA scoring champion in 2015 and 2017; assist leader in 2018 and 2019, two timed NBA All-star Game MVP, NBA MVP in 2017, All-NBA First Team, played in nine NBA All-Star Games, twice at the All-NBA Third Team, five times at All-NBA Second Team.
Russell Westbrook favorite cars and toys
A couple of years ago, we found out Russell Westbrook owned a beautiful Lamborghini Aventador which he bought for $380k. Back in 2016, Westbrook invested in a car dealership, Russell Westbrook Chrysler-Dodge-Jeep-Ram in Van Nuys; later an Alfa Romeo-Maserati also in Van Nuys and three Hyundai stores in Orange county.
Russell Westbrook favorite video games
Russell Westbrook has mentioned anything about his favorite video game recently; however, back in 2015, News9 reported Westbrook's favorite video game was 007 Goldeneye.
 Russell's favorite video game of all time is 007 Goldeneye. If anyone could have beaten the "Aztec" level, it's him." They wrote.

Russell Westbrook favorite designer brand
Russell Westbrook one of the most stylish athletes in the NBA and probably in sports overall has said he doesn't have any favorite designer brand in particular. He owns designer clothes, but he doesn't mind buying something from a drift store, the piece of wardrobe that you'll find the most inside his closet are shoes, he said he has more than 1,000 pairs.
I don't have favorites. I'll wear anything from high-end designers to streetwear brands to vintage clothes to things I find at a thrift store.
Russell Westbrook Morning routing
Russell Westbrook starts his morning routine with a delicious breakfast and a whey protein shake to fuel him for his famous explosive workouts. According to wealthy gorilla, Westbrook likes green tea and goji berries for his snacks.
His workouts are sort of secrecy, but there was one time when someone gave us a little peak, 3 x 8 each single-leg curls to-press, 3-4 x 6-10 physioball TRX rows,  2-4 x 8  walking DB Push-up to row each leg.
Favorite Quotes from Russell Westbrook
I've always had to prove myself to people growing up. I had to show them that I could do this and I could do that and paying no mind to what the critics said.
"Every day when I get on the floor I give it my all and play because you never know what tomorrow holds."
"There's no reason to hold yourself back and say you can't do something in life unless you go for it and try to do it."
"I say, 'Why not' to everything."
Lessons learned from Russell Westbrook
One thing we can all clearly learn from Russell Westbrook is he is confident when it comes to what he chooses to wear.
"I'm confident in some of the things that I wear, regardless of what other people are wearing."
He is observant, he may or may not open up to some people.
If I get to know somebody, I'll open up, but other than that I like to sit back and observe things."
He doesn't like a mess, he is neat and likes things around him to be and remain neat, he gets irritated when he starts to organized something and doesn't get the job done, the way he likes it.
Messy stuff irritates me. I don't like messiness. If you leave something around my house, I'll tell you to move it back, clean it up, throw it in the trash – don't matter, just get rid of it. I need stuff neat, organized. And once I start cleaning stuff, I don't stop until it's done. Otherwise I'm irritated all day."
Who is Russell Westbrook playing for now?
Russell Westbrook is currently playing for the Washington Wizards; he expressed he was unhappy playing with the Houston Rockets after the 2020 season, on December 2, 2020, Houston traded Westbrook to the Wizards, in exchange for a 2023 lottery-protected first-round draft pick and John Wall. During the debut with the Washington Wizards, Russell recorded 21 points, 11 rebounds, and 15 assists, sadly Washington lost top the Philadelphia 76ers 113-107
Top NbaTopShot highlight trades and availability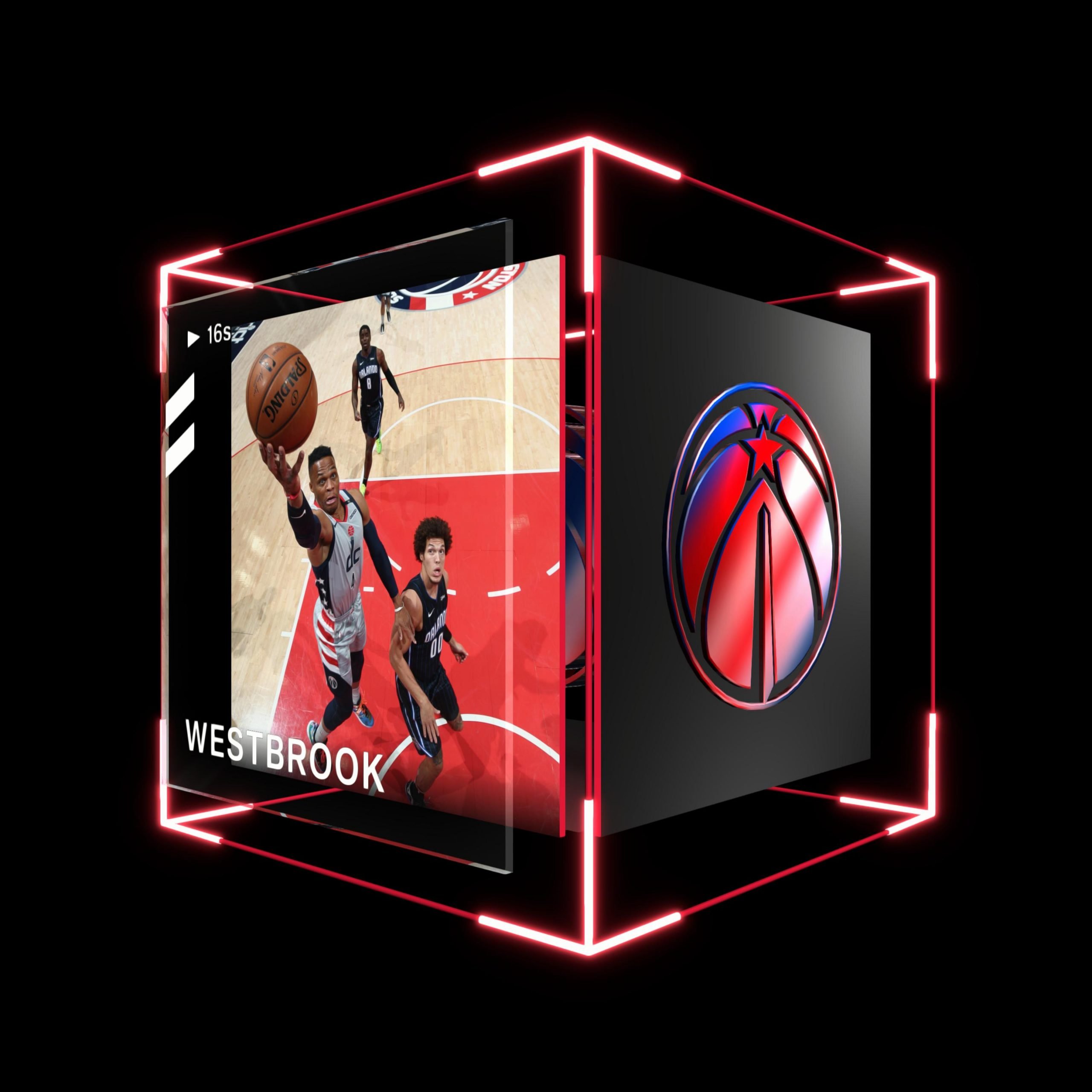 We used to trade sports athletes cards, nowadays we found NBATopShot, the place where people buy and sell their favorite athlete's "Moments" or officially licensed NBA collectible highlights. Russell Westbrook's highlights on NBA Top Shot are available from $4,500 to $250,000.