Taylor Crosby
Taylor Crosby is the sister of Canadian hockey star, Sidney Crosby. Though her brother is usually under the spotlight playing for the Pittsburgh Penguins, the youngest Crosby is also a hockey player herself.
She and her brother both grew up in Cole Harbour, Nova Scotia. Both children of Troy and Trina Crosby of Cole Harbour. Her brother, was selected by the the Pittsburgh Penguins first overall in the 2005 NHL draft. Two years later the club made the 20-year-old the youngest team captain in NHL history. In 2009 he led the Penguins to the Stanley Cup title.
Taylor literally went from playing with Barbies to ace up the skates and grab a stick. She watched how her older brother Sidney age into the great hockey player that he is.
Taylor Crosby, the 20-year-old student at Boston's Northeastern University, has carved her own path in the hockey field, earning her own identity as a player and not only as the little sister of Sydney Crosby.
She tried hockey for the first time at age 10. At around 12 or 13, Crosby estimated she made the switch to playing with boys.As a child she also played baseball and was also into horseback riding, eventually hockey took the first place.
She attended Shattuck-St. Mary's, a prep school in Minnesota known for producing outstanding hockey talent. By her junior year, Crosby led Shattuck into the national championship game on the strength of a 1-0 shutout against the Buffalo Bisons in the national semifinal. She has been part of the Hockey Nova Scotia program and was picked for the U17 team.  Crosby participated in the Hockey Canada U18 camp in 2013, and attended the IIHF performance camp in Sheffield, England. An honor student at Shattuck-St. Mary's, Crosby played softball for the Eastern Canadians and also swam for the Colby Sailfish team.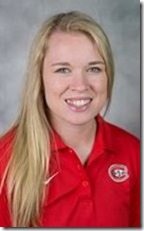 Though the brother sister duo are probably each other's biggest fans, you won't hear Sidney doing many interviews about his little sister, according to his rep, because he allows her to be herself and not take too much attention from her.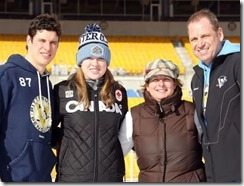 Belive it or not, the siblings don't talk much about hockey. Taylor Crosby says about the relationship between her and her brother: "He's more of a father I guess; he's a bit older than I am," "He's an older, protective brother, so more of a dad, but we're really close. We're close, but we both live very hectic lives."
Taylor Crosby transferred to St. Cloud State and is the current goalie for the Huskies.