Meet Tishana Holmes
Tishana Holmes is the wife of 31-year-old Adam Bernard Jones –otherwise known as Pacman, the cornerback and return specialist for the Cincinnati Bengals.
His wife since 2014, Tishana Holmes must be thrilled to hear her man and baby daddy won't be suspended! Let us refresh your memory, on Sunday Pacman Jones ripped off the helmet of Amari Cooper and hit the Oakland Raiders receiver in the face. All that sounds really violent and as if Pacman had lost his head for a second, but as it turns out, it was all a case of big boy play.
In fact, reports say even Amari Cooper didn't think Pacman should've been suspended. Cooper said: "Football is a physical game," "Things like that happen. … I feel like the refs didn't see it well. If they did, they probably would've given a harsher penalty."
Jones was flagged 15 yards for unsportsmanlike conduct but was not ejected for it.
Tishana Holmes and Pacman tied the knot in a nice Atlanta wedding ceremony last year, –thought they have known each other for almost a decade –NFL Hall of Famer Deion Sanders was Pacman's Co-Best Man at the ceremony. The couple has at least 2-daughters together.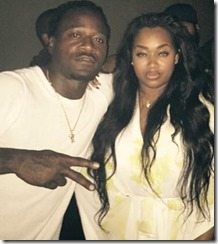 Tishana Holmes was Pacman's girlfriend for at least 7-years before he took her down the isle.
The pair have been through a lot together so it made sense, in fact in 2013 Pacman and Tishana Holmes were even arrested together. According to Michronicleonline, Jones was the passenger in a vehicle that was being driven by Tishana Holmes, who was pulled over by police for allegedly doing 60 in a 45 mph zone. Officers reportedly asked Holmes to take a breathalyzer test, and when she refused, she was cuffed for suspicion of driving under the influence. Jones, then began mouthing off. They were eventually released without bond.
So let's say Tishana Holmes is no stranger to his rants. Pacman, was drafted in the very first round with the sixth-overall pick in the 2005 NFL Draft by the Tennessee Titans. He played college football at West Virginia. Jones has additionally played for the Dallas Cowboys. He was suspended in the NFL for the whole 2007 season as well as for part of the 2008 season for off-the-field actions.
Also in 2013 he was arrested and charged with assault after allegedly socking a woman outside a Cincinnati bar. Then a month later, Jones was arrested again on another disorderly conduct charge. He pleaded guilty to the disorderly conduct charge in exchange for having the resisting-arrest charge dropped and was sentenced to a $250 fine and 50 hours of community service.
Are you surprised he didn't get suspended? Find Pacman on Instagram here.