Meet Gemma Flynn
Gemma Flynn is the girlfriend of 34-year-old Rugby star Richard Hugh McCaw, better known as Richie McCaw. The New Zealander is a loose forward for the The Crusaders and is also the All Blacks captain, the country's national team. `
Gemma Flynn must be excited for her man –who later this week will be playing in this year's Rugby World Cup!
Richie is the most capped test rugby player of all time and a three-time winner of the world player of the year award.
According to his All Blacks profile, he is generally recognized as the world's best openside flanker. His record as a player and as a captain is without precedent. He became the first All Black to reach 100 Tests in 2011 and by the end of the 2014 season, he had played 137 Tests (coming off the bench just six times), and was Captain in 100 Tests.
When not leading the team, McCaw is a keen pilot and in 2009 was made an honorary squadron leader of the Royal New Zealand Air Force.
We couldn't imagine Richie McCaw with other than Gemma Flynn –who is as well a great athlete. Let's find out more about her.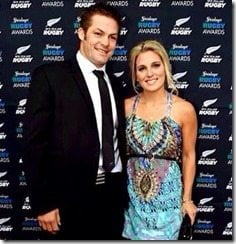 Gemma Flynn was born May 2, 1990 in Tauranga, New Zealand. The lovely blonde is a field hockey player, currently a striker for the Black Sticks Women –the New Zealand women's national field hockey team.
The 25-year-old began playing field hockey at age 5 and made her debut with the Black Sticks in 2008.
She competed with the team at the 2008 and 2012 Summer Olympics, and at the 2010 and 2014 Commonwealth Games.
Gemma Flynn is the youngest child and only daughter of Rob and Michelle Flynn. She has two older brothers, Jared and Isaac.
She attended Tauranga Intermediate School and Tauranga Girls' College, and holds a degree in sports science from Massey University.
Gemma Flynn and Richie were first linked together in 2013 and moved in together at the end of 2014. During a 2013 interview Gemma Flynn revealed, after coming back from the 2012 Olympics she was broke! But after hooking up with McCaw the gorgeous blonde won't have to worry about that again!
Find Gemma Flynn on Instagram here.