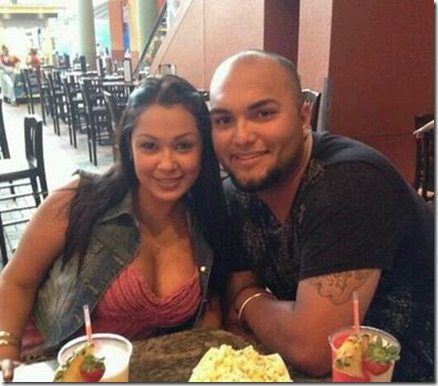 Meet Veronica Salas, the wife of 29-year-old San Francisco Giants pitcher, Yusmeiro Petit. Over the weekend during he longest MLB postseason game ever her hubby surprised us, he was in a word, phenomenal.
The venezuelan native became the unofficial most valuable player of the endless night award as he was asked to get up and take the mound and keep the Giants in business for six more innings while they tried to figure out a way to win on Saturday's game. Over six innings, he allowed just a single to Jayson Werth as the Giants kept hanging in there, hanging in there, hanging in there until Brandon Belt's home run in the 18th gave them their 2-1 victory. "I was expecting a nice game today, but nothing like this" said Veronica's man.
We are just happy he came through, luckily he can now get a deserved rest accompanied by his lovely wife. Well maybe after today's game.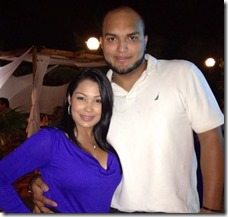 Last month we saw the couple celebrating along with Veronica's mother, Leyda Benitez, after Giants defeated the San Diego Padres at AT&T Park in San Francisco, Calif., on Thursday, September 25, securing the Giants to October baseball.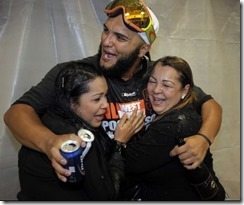 And after Saturday's game we knew the reason why her hubby needed to be on that game. He rocked it!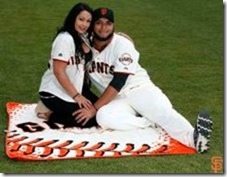 This is really great for the couple since last year, her hubby was said to lost the perfect, even Veronica was accused to have jinxed it! If you don't remember this, is what happened: during the SF Giants against the Arizona Diamondbacks game last year, Yusmeiro was conducting a no-hitter or perfect game in progress when Veronica was escorted by security towards the field at AT&T Park after her husband got the second out of the ninth inning. Of course they wanted Mrs. Petit to be close to the field to celebrate with her husband if he achieved the feat, but they may have rushed things. It was like a team bringing out the champagne bottles before the game ended.
Next thing you know, Eric Chavez delivers a pinch-hit single to right to break it all up, and Petit only ends up with a 1-hitter.
That's all in the past, we just hope Veronica wasn't left to traumatized by the experience.
You can find pretty Veronica Salas on Twitter here.