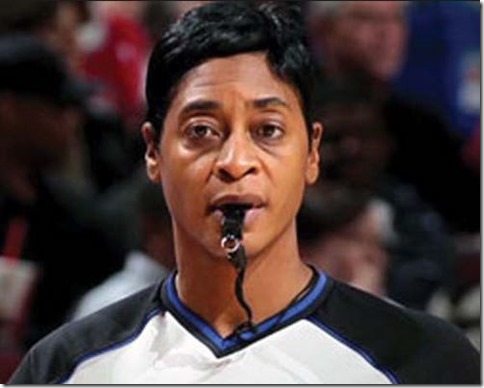 In a world dominated by men Violet Palmer broke barriers in 1997 when she became the first female to referee an NBA game.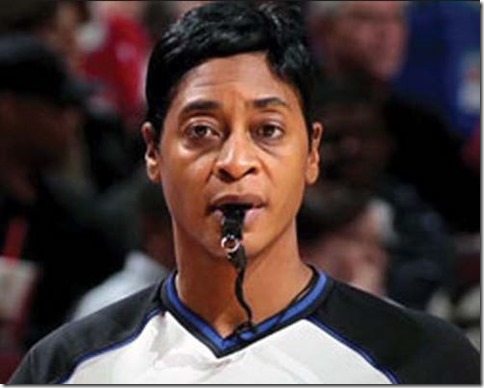 On April 25, 2006, Palmer achieved one of the most prized goals of a professional basketball referee—she officiated at an NBA playoff game. However this time we have a different kind of news. This time, is a much more personal "achievement"
The 50-year-old is getting married! She will tied the knot to her long time love, celebrity hair stylist Tanya Stine.  Palmer came out to her fellow NBA referees in 2007 but she and Tanya have been together for the past 20 years so it might not be a big change for the couple rather than the symbolic union it represents.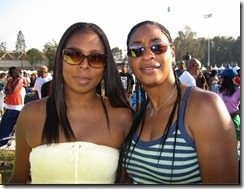 Violent and Tanya will have their –overdue –ceremony on Friday, news outlets say Basketball Wives LA" star Tanya Young Williams, will officiate the ceremony.
Palmer –who never had a formal coming out –knew around her middle school years she was a but didn't come out to parents until she was an adult.
She became a mother to Tanya's daughters since the beginning of their relationship. Tanya is a mom of three and has been previously married.
Born Violet Palmer July 20, 1964, in Lynwood, California. She attended California State Polytechnic University at Pomona, for her BS in recreational administration back in 1987.
She has held several positions including City of Placentia, Department of Parks and Recreation, recreation administrator, 1987–97; various high school, college, and professional women's basketball games and tournaments, referee, 1987–97; National Basketball Association, referee, 1997.
Along with maintaining a full schedule of games, Palmer continued to educate herself as a referee, spending long hours training and studying game films to improve her skills. She also volunteered her time to help train young officials at the Youth Referee Clinic in Los Angeles, where girls between 15 and 18 years of age learn the art of refereeing. In 2001, she founded the Violet Palmer Referee Camp, a yearly training program where adult men and women can learn refereeing from a professional.
Palmer developed her love of basketball as a child playing with her brothers at their backyard hoop. After a successful college basketball career, she sought a way to remain a part of the sport and found it by becoming a referee. Palmer began by filling in as a substitute referee at the community recreations center where she worked, and quickly rose to become one of the most respected referees in women's college basketball.
According to her bio, she is one of four children, she her two sisters and one brother grew up in the nearby town of Compton. Her father James was foreman at a company that made parts for airplanes, and her mother Gussie Palmer worked in the family home.
Major Congrats to Violet on her upcoming nuptials!