K. Michelle
K. Michelle is as we all know a singer and reality t.v star, according to Bossip, Michelle is also a NFL WAG, allegedly she is the new girlfriend of NFL player Von Miller, linebacker with the Denver Broncos who also showed us his dancing moves as a contestant on Dancing With the Stars.
It has been said Von Miller and K. Michelle are not only dating, but they have been for a while, they haven't make it official, albeit they plan to make it public pretty soon.
K. Michelle, 32, was born Kimberly Michelle Pate March 4, 1984n Tennessee where she graduated in 2000 from Overton High School in Memphis, Tennessee and Florida A&M from where she graduated with a degree in psychology. While in college she started dating Brian Bowman.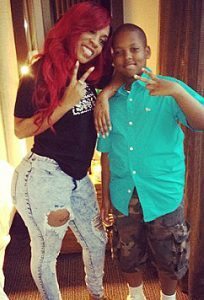 Bowman is the father of her adorable son Chase Bowman; these two stopped talking to each other when Brian married K. Michelle's sorority sister.
But there was no other option but to talk to each other when he was on her reality t.v show "K. Michelle: My Life,"on VH1 in 2014.
She released her first album Rebellious Soul in 2013, followed by Anybody Wanna Buy a Heart? in 2014 and More Issues Than Vogue in 2016.
K. Michelle was seen supporting Von on DWTS, not long after that she talked to Wendy Williams about her relationship with Von and Idris Elba breaking her heart.
"He's just my friend.  We haven't gone there yet.  He loves country music.  He still super cool…I'm taking things slow so I won't be back up here again."
We really don't think miller is dating the lovely singer, who is more probably the girlfriend of Dr. Kastan Sims, a dentist from Memphis.