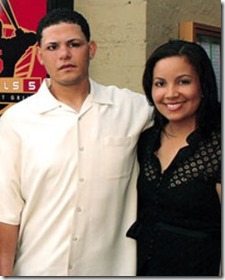 Let's meet 5 time gold glove winner Yadier "Yadi" Molina's wife; she is Wanda Torres, now Mrs. Wanda Molina and the mother of their two beautiful children. The St. Louis Cardinals catcher sure has come a long way from Bayamon, Puerto Rico.
He and his brothers grew up doing what they loved, just boys being boys, playing around in the streets, pretty much catching ball 24/7 never imagining one day, he would earn a six figure salary to support his wife and children. He has become a star and also a family man. His wife's name is Wanda Torres the couple's two children names are Adrianna Molina and Yanuell Benjamin Molina.
Wanda's husband has some serious skill, he's been appointed as one of the best catchers of all time. The couple like many, met in their high school years and wed back in 2007.
Wanda and family live in Caseyville,IL but split their time between Vega Alta and Puerto Rico during the off season. Now that is what I call living the life, traveling to the homeland every chance you get, who wouldn't huh!
There is not much more info about her but she definitely looks like the private kind of the gal and is also safe to say Wanda is his best friend and the woman who pushes him to even further in his career.
Are you also waiting to see him get inducted to the hall of fame?? I'm sure wife Wanda is.