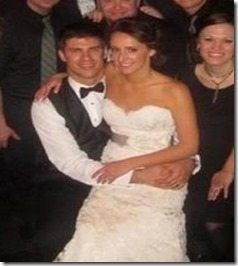 When Minnesota Twins catching heartthrob Joe Mauer stopped being on the single men market he made several millions of women out there very sad but he made one extremely happy. After dating for about 18 months, Joe Mauer dropped to one knee and proposed to girlfriend Madeline Bisanz.
Maddie 30, as she is commonly addressed, by family and friends has known the 30-year-old Minnesota Twins Catcher for more much longer than we imagined. It turns out this is one of those "faith" kind of things since they both attended Cretin-Derham Hall High School, a private Catholic school in St, Paul Minnesota.
In late 2011 Maddie's year in a half boyfriend at the time, popped the question in Sanibel, FL, near Joe's Fort Myers home where he spends his off-season's and said
"I was hoping for a yes, and she said yes. I'm getting to marry my best friend."
The couple then joined their lives in a traditional catholic ceremony just a few months back on December 1, 2012 at Nativity of Our Lord Catholic Church in St. Paul, MN. friends and family attended a reception at The Depot in downtown Minneapolis. Some of the guests included current Minnesota Twins Brian Duensing and Glen Perkins as well as former teammates like Jim Thome, J.J. Hardy and Orlando Hudson.
The MVP, a now married man is also set to become a daddy soon! They did not waste any time and earlier this year, in February it was the thrilled soon to be father who broke the news of his preggy wife. Maddie and Joe are sure in for a trear since the newlyweds are expecting twins! Typical huh! We all know Joe loves everything double!
Before they got engaged, the now Mrs. Joe Mauer worked as a nurse in the St. Paul area but after husband a human hitting machine making a six figure salary a year who needs to work right!
Congratulations to the couple and keep those babies coming!