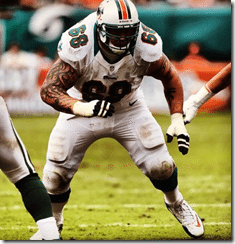 This are not definitely good news for 30-year-old Miami Dolphins offensive lineman Richie Incognito! The big guy is being accused of bullying?? Apparently he is! The player is being accused of being the reason for which offensive tackle Jonathan Martin left the team! If he is currently dating which we are not sure of, definitely not looking good for his image of future father figure, if you know what I mean!
The same guy who led a book reading to over 100 kids last year, who supports Operation Homefront, which is an organization that provides assistance to families of service members and wounded soldiers and who has a younger brother to set an example for!
The New Jersey native but Nebraska University brewed, he is the son of Richard and Donna Incognito, we know his proud dad marbled by his son attending college at Nebraska wrote a piece to Huskerboard.com describing the recruiting process. Richie is the oldest son of the couple and his younger brother's name is Derek.
According to ESPN reports Richie's starring role in the harassment of teammate Jonathan Martin included getting him to contribute $15,000 to help finance a trip to Las Vegas by some teammates last summer, even though Martin preferred not to travel with the group!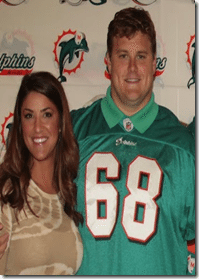 A few years back he was romantically linked to Carrie Bayes, she was described as the under-the-radar WAG prospect belonging to lineman Richie Incognito. But hasn't been in any major relationship.
On Sunday morning, the Miami Dolphins dismissed allegations of bullying by one of its players as "speculation." By Sunday night, the team had suspended veteran guard Incognito for "conduct detrimental" to the team.
For sure he is needing some people by his side right now as he continuous to being slammed by the media and but his records of being the secon-dirtiest player on the NFL are sure not helping!
We do hope he is dating someone though! At least he can have some needed support during this hard times!
Follow him on twitter here.