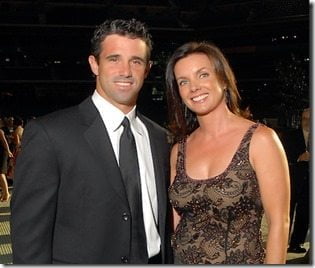 Meet gorgeous Liz Ausmus, she has been the wife of Former San Diego Padres catcher Brad Ausmus for the past 18 years. Now that her hubby has been appointed the new manager for the Detroit Tigers we're sure we'll be hearing more about this
beautiful lady, wife and mother.
For the time being, here is what we know about her. Elizabeth Ann Ausmus was born March 27, 1970, meaning she is one-year younger than her still hunky looking man who was born on the 14th of April 1969, in New Haven, Connecticut. To be a 43-year-old woman Liz is looking great, the picture above was taken a few years ago while she and hubby attended the Astros Wives Gala at Minute Maid Park Thursday July 31,2008 but even to this date she is one classy gal.
Liz Ausmus has been married to Brad since 1995. Brad, a former All Star catcher in Major League Baseball, went from the field to being a special assistant for the San Diego Padres. Her hubby played 18 MLB seasons with four teams, establishing a reputation as a cerebral catcher during his tenure as a player.
However, Ausmus credits his wife, Liz, for his greatest accomplishment; the couple's two daughters, since she raised them when he was gone during the summers. Liz first gave birth to Sophie who was born March 13, 1998 and following closely is Abigail who was born July 27, 1999.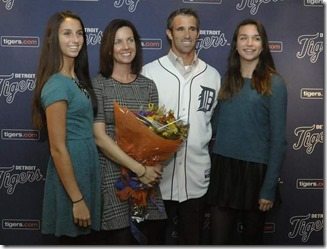 Her hubby's career achievements include: 1999 American League All-Star team as a Detroit Tiger.; three-time Golden Glove Award winner (2001, 2002, 2006); 2004 inducted into the National Jewish Museum Sports Hall of Fame; played in the 2005 World Series; and 2007 Darryl Kile Award for Integrity and Courage. (After high school graduation in 1987, Ausmus signed with the Yankees just before attending Dartmouth. He would go to college in the fall and winter, and play in the minors during the spring and summer.)
Liz's man has no prior managerial experience but has been part of the San Diego Padres organization since shortly after his retirement in 2010 besides managing the Israel national team in the 2010 World Baseball Classic qualifying rounds.
He will be pressure to win from the start having one of the one of the most talented teams in baseball, but we are sure Liz will be a key member in his success.
Congrats to her husband on the new job!
Don't miss the video below, where you can hear their daughter Sophie sing! Any thoughts?