Josh Johnson
The better half of NFL QB Josh Johnson must be really happy for the seven-year NFL veteran, who has been signed to the Giants, after the 30-year-old was released from the Baltimore Ravens on Saturday.
Josh Johnson has played with eight teams in the past: Tampa Bay, San Francisco (twice), Cleveland, Cincinnati (twice), the Jets, Indianapolis, Buffalo and Baltimore.
According to Giants.com, he has played in 29 games with five starts (all for the Buccaneers; four in 2009 and one in 2011). Johnson's career totals are 96 completions in 177 attempts (54.2%) for 1,042 yards, five touchdowns and 10 interceptions.
Johnson was born May 15, 1986 in Oakland, CA. He starred at Oakland Technical High School –where he was a letterman in football, basketball, and track & field. In football, as a senior, he was named the team's Most Improved Player, was a first team All—City selection, and led his team to the Oakland Athletic League Championship.
The California native attended the University of San Diego. He was a fifth-round draft choice by the Tampa Bay in 2008.
Josh made his NFL debut the following season, when he played six games with four starts and compiled career-high totals of 125 attempts, 63 completions, 685 yards, four touchdowns and eight interceptions. Johnson played in 11 games in 2010, and nine with one start in 2011. He last threw a regular-season pass on Dec. 11, 2011, at Jacksonville.
He and former Seattle running back Marshawn Lynch, are cousins. The two attended Oakland Technical High School and co-founded the Fam 1st Family Foundation, which aims to uplift children through literacy programs, athletic camps, talent shows and family fun nights, among other activities. Johnson is listed as founder and president, while Lynch remains co-founder and vice president.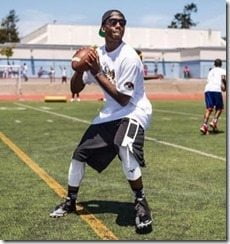 Its website mentions they both have overcome a significant amount of adversity to become the men they are today.
Johnson is not very big on social media. He keeps a low profile and not much is known about his romantic life. Though he has an active Twitter and Instagram accounts, he keeps his posts work related.
Most of his snaps on Instagram –where he has less than 4K followers –are about the foundation or about him during training sessions.
One thing is clear, family and helping underprivileged kids is extremely important for Johnson. Something his future girlfriend/wife would have to accept and understand.
You can check him out on Instagram here, Twitter here.