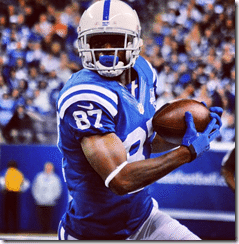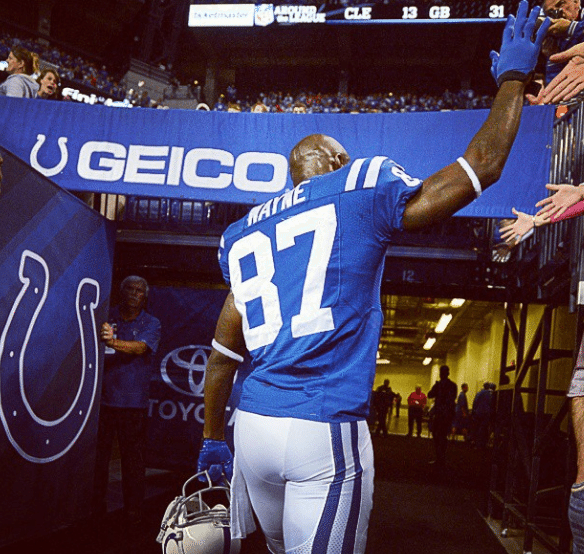 Now that Indianapolis Colts' wide receiver Reggie Wayne, will miss the rest of the season after tearing his ACL in the fourth quarter of the Indianapolis Colts' Week 7 39-33 win over the Denver Broncos when the 34-year-old landed awkwardly on his knee; the doubt about who his wife is comes to mind.
Reginald "Reggie" Wayne who played college football for the University of Miami, and was drafted by the Colts in the first round (30th overall) of the 2001 NFL Draft got married back in the summer of 2009. But he and wife are definitely a private couple since no picture of both together in almost four years of marriage can be found.
Some forums online say he has a special wedding band he wears during games since his knuckles are all messed up. But he messed up big time when in 2010 he was caught cheating!
In 2010 only a few month after his wedding Reggie filed a police complaint against Natasha alleging her to have stolen almost $95,000 from him using a debit card for almost 300 transactions.
McKenzie who is described as both his mistress and ex-girlfriend turned herself in to face charges of theft and fraud. She admitted to saving the card number but using it because Reggie said she could! She was in complete shock when the allegations came through.
But it was after Reggie Wayne's wife found out that he was cheating, Reggie turns around and sues his mistress.
The six-time Pro Bowl selection, warn Natasha that his wife found out about their little secret and shortly after that, he cut off all communication with Natasha.
Assuming the couple is still together since there are no images of them that we know of, her NFL player hubby has been in a good behavior ever since and whoever his wife is, we give her props for keeping the class and the clothes where they belong. Her sense of privacy and family values certainly comes first for her, after sticking with Wayne all this time and being a supportive and understanding woman this torn ACL should be no problem for the couple.
Any comments?