30-year-old Robinson Cano the Dominican baseball player who plays as second baseman with the New York Yankees was named after the baseball legend Jackie Robinson by his father Jose Cano who played with the Astros in the 80's.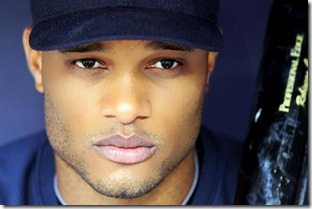 Robinson was born in San Pedro de Macoris, Dominican Republic, he lived for a period of time n Jersey where he studied at Barringer High School and Newark school system, and San Pedro Apostol High School when his family moved back to he Dominican Republic.
Following his high school graduation Robinson Cano signed in 2001with the Yankees his team until this day, Cano a 5-time All Star won the Silver Slugger Award in 2006, 2010 and 2012, Gold Glove Award in 2010 and 2012, winner at the 2011 Home Run Derby and gold medalist with the Dominican Republic Team at the 2013 World Baseball Classic where Cano was named Most Valuable Player (MVP).
What about Robinson Cano's personal life? dating anyone? Who is this Desiree people referred to as Cao's girlfriend? and who the heck is that busty blonde he showed up with in 2009 while working  the road beefers at his Miami Suite? and what about those two Fordham hotties with him and Melki Cabrera?
Let's not forget to mention that for a brief moment the name of Melanie Iglesias was linked to Cano, as a result of a photos of them together with two other girls, I don't think they dated or had any romantic thingy going or whatsoever, it seems to me that they just posed for that picture- Period-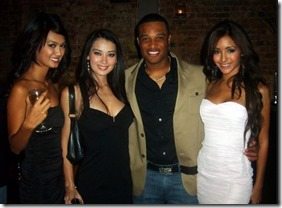 I think is only fair to mention that Melanie Iglesias is freaking hot, brunette, petite but perfectly proportioned, I guess Melanie like the most expensive perfumes come in small packages.
to sum it up the whole Cano and his girlfriend are just rumors, as far as we know the only woman we can be 100% sure was once part of his life is Jacqueline Castro the mother of his son.