Now here is a news that will rock you to the core! Thomas Johnson, a former Texas A&M Wide Receiver, has been arrested in Dallas on suspicious of murder!
Now more than ever, we are hearing about athletes ending their careers in such a sad way, who can forget Patriots Aaron Hernandez's case! And now 21-year-old Thomas Johnson's future is not looking bright at all!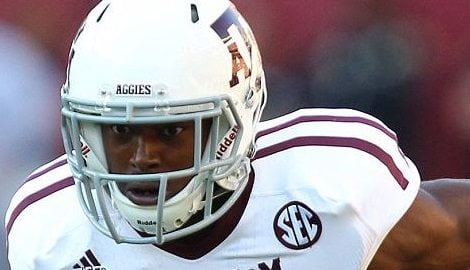 Media outlets report Johnson randomly picked someone to murder because he was angry. The former football player was arrested after his victim was found Monday morning on White Rock Creek Trail in Dallas.
The victim –a male jogger –was found early in the morning and was taken to the hospital where he eventually died due to injuries sustained from a 'large-edged weapon.'
Police arrested Johnson who was at the scene and when questioned, he admitted to detectives he attacked and killed his victim during an act of rage.
According to the Daily Mail, Thomas Johnson used a machete to murder the jogger, he then called 911 to report the attack.
The 5-foot-11, 185-pound Johnson was a four-star recruit and looked every bit the part during the first 10 games of his freshman year. Before he was accepted to play with at Texas A&M for the Aggies, Thomas Johnson was a an All-American in high school athlete. Johnson –who played next to Johnny Manziel –had three catches for 22 yards in A&M's 29-24 win at top-ranked Alabama. He last played for A&M in 2012.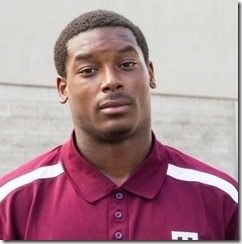 In a dark turn of events, Johnson dropped out in 2012 and vanished for the next three days. He later showed up at his parents home in Dallas. At the time his mother, Linda Hanks, pleaded through tears in her front yard and in front of TV cameras for the safe return of her son. She also said in 2014 her son had been working out, getting in shape, and vowed, 'he shall return.'
He sparked doubts about his state of mind and he didn't make any public appearances since then. To this day it is not exactly clear what happened at Texas A&M or what triggered his sudden exit.
According to the Dallas Morning News, he was on probation after being charged with evading arrest, burglary and auto theft last year, but his probation was at risk because of use.
It is not clear if he is currently dating anybody or if he is in some kind of relationship.
Johnson is being held without bond. His victim is yet to be identified.