Meet Yanire Machi, she is the lovely wife of MLB player Jean Manuel Machi, better known as Jean Machi. Her hubby is a Venezuelan pitcher for the San Francisco Giants of Major League Baseball. In 2008, he played in the Toronto Blue Jays organization and was released after the season.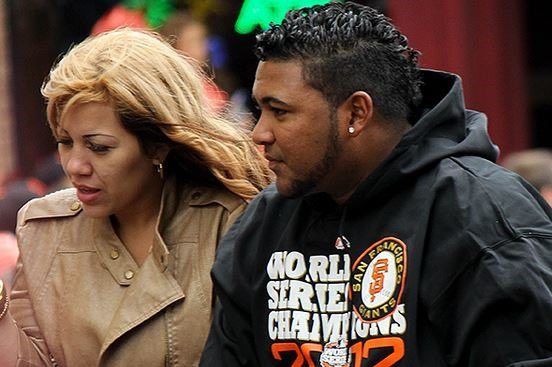 This is an exciting time for the couple, as he will be playing tonight when the Giants face Kansas City one more time.
There is not much info available on Yanire, the couple is very private and like to keep their stuff for themselves. It appears they're not even into social media.
During an interview Machi did mention his wife is his "refugio" which translated from Spanish means "shelter."
We know she is a mom, but no details on how or when they met and if they have more children together. Her 32-year-old hubby is originally from El Tigre, Venezuela and we assumed his wife is also a Venezuelan native. They have probably been together way before he was in the big leagues.
We know when players go through a rough patch, and they usually do, all kind of things go through their minds. When that moment happened for Machi, he confesses what prevented him from breaking down during a 2013 interview by Spanish portal liderendeportes:
"It was my wife who reminded me that I am "a great pitcher" and should not ever think otherwise. She is my support, she is rather an angel with whom I was fortunate to marry years ago.
When asked: Was It time or did you received any additional help to get back your confidence?
It was basically my wife. She is my refuge. When things were bad last year, she always talked with me at night and kept me motivated. She would show me messages from friends and others who were supporting me. She wanted me to be aware that there are people who believed in me.
So even thought we don't have much info on her, that right there says a lot about pretty Yanire.