Meet Alexis Arnoldi
Alexis Arnoldi is the lovely girlfriend of MLB starting pitcher, Garret Richards.
Richards, born, Garrett Thomas Richards on May 27, 1988; was drafted in the first round, 42nd overall, by the Los Angeles Angels of Anaheim in the 2009 Major League Baseball Draft, and earned an $802,800 signing bonus.
In August 2012, Los Angeles Angels recalled RHP Garrett Richards from Salt Lake Bees, the following day he was placed in the disabled list. In late 2014 Los Angeles Angels activated Richards from the 60-day disabled list.
The right-hander, signed a 1 year / $6,425,000 contract with the Los Angeles Angels, including $6,425,000 guaranteed, and an annual average salary of $6,425,000. In 2016, Richards will earn a base salary of $6,425,000. Richards has a cap hit of $6,425,000.
Her man, tossed five innings of one-run ball Tuesday afternoon against the Indians.
He returned from a major knee injury last season to post an impressive 15-12 with a 3.65 earned-run average in 32 starts last season, striking out 176 and walking 76 in 207 1/3 innings. He spent all of last winter rehabilitating from surgery for a ruptured patellar tendon in his left knee, an injury that ended his 2014 season in late August.
Richards may have earned American League Cy Young Award votes had he not suffered that injury.
Back to pretty Alexis Arnoldi, she and Garret have been in relationship for some time now.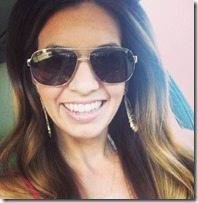 Her social media goes to show, she is not just one of those girlfriends that sit around and wait for their guy, Alexis Arnoldi is the kind of girlfriend that actually makes time for Garret and actually shows up with him at events and of course his games.
Like a true potential, MLB wag, Alexis Arnoldi is into charity. Back in 2014, she helped raise twenty-nine grand at a fundraiser for the special Olympics.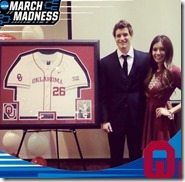 Alexis Arnoldi was born on January 26. She currently resides in Edmond, Oklahoma. The pretty gal is an independent personal stylist and keeps busy running her own business, Stella & Dot by Alexis Arnoldi.
Alexis is a stylist for the social selling company, she hosts home trunk shows, and each Stylist is able to build their own flexible, modern business on a foundation of irresistible product and exceedingly personal service. The website states.
Arnoldi and Richards have been dating for a few year and both seem to get along just great, plus their families also seem to love them together.
Do you think we'll be hearing wedding bells soon?
You can find Alexis Arnoldi on Twitter here.