Meet Felicia Jenkins
Felicia Jenkins is the proud mother of college basketball player, Kris Jenkins. Her 23-year-old son is a Forward for the Villanova Wildcats team.
According to his biography in Villanova's media guide, Kris is the second-leading scorer for Villanova team.
Kris was born November 20, 1993 in Columbia, S.C. to Felicia and Kelvin Jenkins. The couple are also the parents to Kris' siblings, Kaiya and Kelci Jenkins.
There are also other special people in the life of the young player, that would be his guardians, Nate and Melody Britt. Through them Kris Jenkins is also 'brother' to Nate Britt Jr., and Natayla Britt.
Kris attended Gonzaga College High School, where he lead the Eagles to a 30-9 finish as a senior. Received the 2012-13 Boys Basketball All-Met Player of the Year by the Washington Post and averaged 18.3 points and 10.3 rebounds and 3.3 steals per outing in 2012-13. The two time WCAC and District of Columbia Gatorade player of the year selection considered Clemson, Miami, and Xavier as well as Villanova.
His "brother" Nate Britt II is also a basketball player for the North Carolina Tar Heels. Kris Jenkins lived with Nate's family since the age of ten, at his mothers, Felicia Jenkins' request.
Their relationship could be material for a movie. Jenkins and Britt first crossed paths at an AAU Tournament when they were 10 years old. Jenkins mother, Felicia, a basketball coach in her own right, liked the way that Britt's team, which was coached by his father, Nate Sr., played. A friendship developed even though the Jenkins family lived in Columbia, South Carolina and the Britt's resided in Washington, D.C.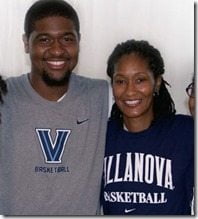 Felicia Jenkins asked Nate Britt Sr. if her son could work out with his team when the family was in the area. Felicia and Kris' dad, Kelvin were separated and afraid Kris was headed down an irreversible path –she and her husband decided to reach out to Britt Sr. and ask to welcome Kris into his family. Nate Britt Sr. and his wife, Melody, agreed to become Jenkins' legal guardians and raised him as their own.
In a recent interview, Kris stated leaving his parents was hard, but said he has never once looked back and wondered what would have happened had he stayed in South Carolina. He adds, his mother's tough decision, worked out for the best.
Felicia Jenkins herself, a former college basketball coach, work at an Amazon distribution center in Columbia, S.C. She is a former ballplayer, Felicia Jenkins had been all-conference twice at Division II Claflin University in Orangeburg, S.C., later was an assistant at Claflin, head coach for seven years at Division II Benedict in Columbia, and most recently an assistant for a couple of seasons, until 2014, at Division I Jackson State.
You can find Felicia Jenkins on Facebook here.