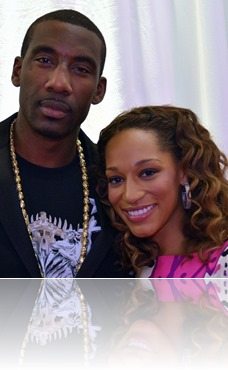 Meet the one and only, Alexis Stoudemire formerly known as Alexis Welch since last year and then again recently because Alexis and her NBA stud recently got married AGAIN!!!
30-year-old Amar'e Stoudemire, the power forward from Florida who has been since 2010 with the New York Knicks met his beautiful wife Alexis in Phoenix at an after party for a Nelly show in October, 2010.
Montana native Alexis, 19 at that time like Amar'e was a a star athlete in three sports at her high school, volleyball, track and basketball, at the party she noticed he was wearing a Montana t-shirt so she began to talk to him about her hometown.
They spend the rest of the night talking and continued to see each other after that, soon they were dating. Alexia has two sisters, her mom in an interior designer and her dad is an entrepreneur.
Three years after they met Alexis welcomed her daughter Aré, the following year came her son Amare Jr., then her second daughter Assata and on May 21st, 2013 came their youngest child, son Alijah Carsares Stoudemire,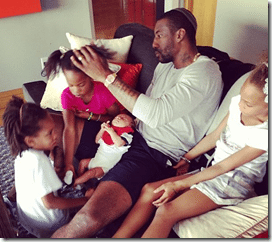 Their engagement took place in the world's most romantic city, Paris where he popped the question at their penthouse at Le Maurice Hotel Belle Etoile Royal Suite overlooking  the Eiffel Tower around 11 p.m. local time, with an 8.5-carat radiant-cut ring designed by Shayan Afshar.
Alexis became Alexis Stoudemire in a secret ceremony at sunset on Wednesday, December 12, 2012, the ceremony with only 12 guest gathered on the roof deck of their apartment on Jane St. They didn't stop there because on Saturday, June 29, 2014 Alexis and Amar'e in Posh Miami Ceremony at the Fontainebleau hotel in Miami Beach.
Alexis wore a J"Anton wedding dress and an Oscar de la Renta reception gown, while her hubby wore a suit by Calvin Klein for the wedding and a Larvin suit for the reception; among their guest were some of his teammates Grant Hill, Carmelo Anthony, Tyson Chandler and other a-list celebs like  Alicia Keys, Timbaland, Swiss Beatz,