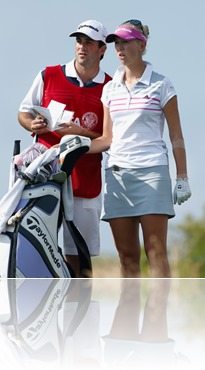 Meet Johnny DelPrete, he is the pro golfer dating Jessica Korda who fired her caddie Jason Gilroyed midway through the course on Saturday after several disagreements over the first nine holes at the 2013 US Open, so her charming Prince came to caddie for her.
20-year-old Korda the beautiful daughter of  former Czech pro tennis players tennis players Petr Korda and Regina Rajchrtová had her little sister Nelly, 14 also a golfer competing at the Southampton course and their father is her caddie, just like he was for Jessica in her amateur years, but asking him to leave Nelly for her was not an option.
So she asked her hot boyfriend Johnny dePrete.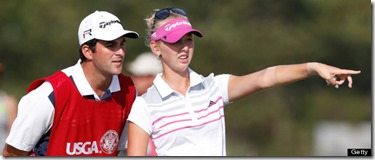 Florida State Boys Junior Champion, 24-year-old Johnny DelPrete was born in Palm City, FL graduated from The Benjamin School, where he was named Most Valuable Player three times, holds  four American Junior Golf Association Top 10 finishes, was named Gatorade Player of the Year and Optimist International Championship, won the Doral Publix Junior Classic and Florida State Junior Championship.
After he graduated from high school DelPrete attended at the University of Louisville, he then transferred to Ole Miss along d Nick Mullhaupt . DelPrete turned pro in 2010.
Find Johnny DelPrete on Facebook here and follow on Twitter here