Meet Alison P Allen, the wife of four-years of former Jacksonville Jaguars linebacker Russell Allen. Health problems are always something you don't mess with, specially with athletes, why? Well because it could possibly represent the end of their career, that is exactly what happened to undrafted linebacker Russell Allen.
According to Allen himself, the reason came as a shock when doctors discovered a dime-sized portion of Allen's cerebellum has gone dark following a face-to-face collision with Bills center Eric Wood.
Ali's husband described the incident as "routine"
It was strange because it was so routine," "We hit, I got off the block, no big deal. I felt something flash — like they say when you get your bell rung. I didn't lose consciousness. I walked back to the huddle and finished the drive."
Ali's man was left battling double vision until the final whistle of the game. Can you imagine what it means to start a game but ending it as your last? The promising career of her 27-year-old hubby was shut down just like that. He started in 29 games over the past two seasons.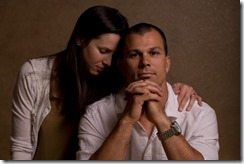 The fact is that his dreams of playing football have been crushed, however in between the harsh reality he still can count on his family, his lovely wife and son.
Ali and Rusell tied the knot in March of 2010, they are the proud parents of 2-year-old Parker and Ali is currently pregnant with their second child.
During a recent interview done at the couple's home in San Diego, she instructed little parker and running over to his daddy to say he did "a good job playing football." Allen, burst into tears.
The couple has strong faith beliefs, Joining forces with pastor John Scott of Celebration Church, whom he met during a Jaguars rookie orientation and mentoring session, Allen became a regular visitor to a pair of juvenile detention centers, Daniel Memorial and Seamark Ranch.
Along with his then-fiancee, Ali, became a role model for many of the thousands of residents, most of them foster children who have little or no male presence in their lives.
Her hubby made his debut in 2009 and became a full-time starter in 2012. Allen's confirmation to sign with the Jaguars was aided by his then fiancé, Ali. Her husband's achievements include being named San Diego County defensive player of the year by the San Diego Union-Tribune, the North County Times and CIF as a senior; he led team to consecutive Division I championship game appearance and recorded team-high 118 tackles as a senior and was also credited with four sacks, four fumble recoveries and three forced fumbles.
Now, Ali is happy to support her hubby on his decision to stay in the San Diego area and coach high school football.