A tragic story was reported today Thomas Howard the former linebacker with the Atlanta Falcons died on November 18th, 2012  when Howard was driving his BMW at high speed, hit a big rig, flipped over the center divider and went head-on into a Honda traveling on the other side around 1 a.m., the driver of the Honda was identified as 64-year-old Zeng Long Liu of Hayward. Thomas Howard was not married, but sources told Fabwags he was dating a beautiful young woman identified as Alli Linzie.
30-year-old Thomas Arquis Howard was born to Thomas Howard Sr. a former NFL linebacker on July 14, 1983 in Lubbock, Texas. He attended Lubbock Estacado High School and University of Texas at El Paso.
Howard was the 38 pick of round 2 at the 2006 NFL Draft by the Oakland Raiders where he played until 2010, the following year he signed a two-year-contract with the Cincinnati Bengals and this year the Falcons signed him in, but released him less than a month later.
according to his Twitter account Thomas Howard described himself as a Father – UTEP Miner – Professional Athlete – Entrepreneur – Philanthropist,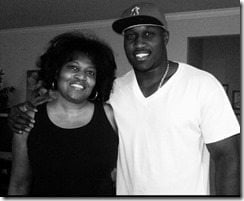 He was not married, but this tweet posted  on October 22nd hinted us he might have been dating Alli Linzie.

Just in case Howard was indeed dating this stunning woman, allow us to tell you the few things we found out about her..
So Alli is apparently a fitness coach in the Bay Area in California, her twitter account is protected and we couldn't find any other thing about this gorgeous lady.