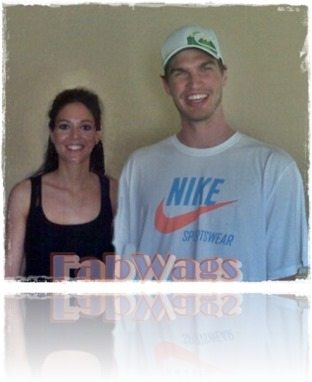 28-year-old Tiago Splitter is the Brazilian/ Spanish center NBA player with the San Antonio Spurs, who became a professional basketball player in 1999 when he was just a 14-year-old boy in his natal Brazil. The following year he joined the Spanish basketball team Saski Baskonia his team for the next 10 years, while in Spain Splitter was a loan player to Araba Gorabo Alava and Bilbao Basket, he became a Spanish citizen in 2004 and was named Spanish League MVP in 2010.
Few people know that Splitter was drafted by the Spurs at the 2007 NBA Draft, but he decided to remained in Spain and joined the U.S team until July 12, 2010 when he signed a three-year-deal worth $11 million with San Antonio.
Pretty impressive but let's be honest not as impressive as his wife Amaia Amesco also known as Amaia Splitter.
Amaia Splitter is a beautiful well known model from Victoria, Spain, she met her hubby while he was playing in Spain with Saski  Baskonia. Amaia and Tiago Splitter got married on July 3rd, 2010 at the at the Basilica de Armentia in Victoria, Spain; they welcomed their adorable baby son Benjamin on June 14, 2012. The news was announced by the new daddy on Twitter
Yesterday was a wonderful day, Benjamin arrived! Mommy and baby are doing great! Thanks for everything!
Amaia Amescua Splitter has been named as one of the pretties WAGs in the NBA, which is perfectly understandable