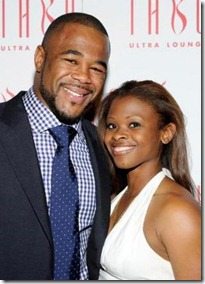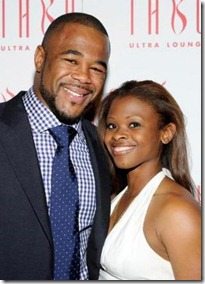 Mixed martial artist Rashad Evans will compete against Dan Henderson, a veteran fighter he has followed for years, on Saturday. Both of them are former champions. Evans, with an MMA record of 22-3-1 and a UFC record of 12-3-1, is still predicting a win when the light heavyweights meet at UFC 161.
"I have a tremendous amount of respect for Dan and it's going to be fun because I've watched his style for a long time," Evans said Thursday. "I kind of modeled my style after his a little bit."
MMA fighter Rashad Evans was married to LaToya since July, 2007. Together they have a son, Rashad Jr., and a 5-year-old daughter Nia. He also has another daughter from a previous relationship named Tahja.
Sadly, the couple who had been together since college, filed for divorce last year and just recently has been hashed out. Rashad said that all the travelling from his mounting fame took a toll on their marriage, they tried to stay together for the kids but didn't work out.
What he fears the most is that his children grow up without having him around. The divorce has separated Evans from his kids for long periods of time. His oldest daughter lives in Montreal and his two youngest children live in Chicago. During training camp, he has no time to visit, but he plans on dedicating his whole summer to them.
"I'm worried about it," he says. "I grew up without my father in the house. Never thought I'd be in this situation that I am right now, you know? But that's just how the last couple years have been for me. Been rough."
Rashad and LaToya lived together in Lansing, Michigan, where Rashad has helped out with the high school wrestling team. 31-year-old LaToya Renee Brown was born  on November 14, 1981 to Ronald Brown, 60 and Gloria Brown, 58.
In March 2013, Evans announced his support for same- marriage and LGBT rights. As of December 2012, Evans is currently ranked as the #10 light heavyweight in the world.